If you're a frequent movie goer, you'll immediately notice it cost a lot to watch a movie. The price range is from RM8-RM21.
A quick search at the Golden Screen Cinemas, Mid Valley Megamall, the movie called BATMAN V SUPERMAN: DAWN OF JUSTICE (show on Sun 27 Mar 9:15 PM) cost RM17 for Adult and RM8.50 for Children.
For the same movie at TGV Cinema, Suria KLCC(show on Sunday, 27 March 2016 @ 9:00PM), it cost RM21 for Adult  and RM9 for Children.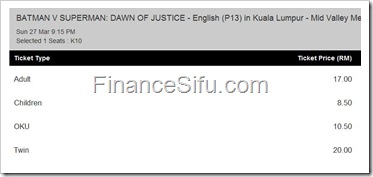 Do remember you still have to pay for meal, car parking, Toll etc as well. All these cost can add up to RM50 per person! So watching Movie is consider a Luxury.
The good news is there is a good way to get a FREE movie tickets in Malaysia!
Just sign up for a member at Golden Screen Cinemas website. It's a FREE sign up as no membership is involved.
During your birthday month, you'll get TWO FREE movie ticket at Golden Screen Cinemas, and *20% off your meal at the Glitters Cafe!
I just claimed my TWO FREE movie ticket at Golden Screen Cinemas! :-)
The ticket cost RM14/pax should I pay cash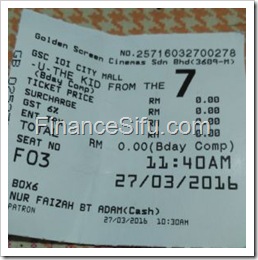 Do read the  Terms and conditions below before redeeming your Birthday Treat Coupon.
TERMS & CONDITIONS:
» Exclusive for GSC website members only.
» This Birthday Treat Coupon entitles the GSC website member to ONLY two (2) FREE movie tickets in a single redemption PER year.
» To redeem FREE birthday treat, MUST PRINT out Birthday Treat Coupon (color or black & white) and fill up your details.
» MUST present duly completed Birthday Treat Coupon at GSC Box Office only to enjoy FREE movie.
» FREE ticket is valid for movie marked asterisk (*) only and valid in all GSC cinemas nationwide (except GSC Signature).
» For Digital 3D movies, a RM5.50 surcharge applies.
» Original copy from www.gsc.com.my only. Photocopied copies will not be accepted.
» Valid only during the month of actual birthday. For example, if the member's birthday falls on March 15th, the Birthday Treat Coupon is valid from 1 – 31 March only.
» Must be verified with Identification Card (IC) by GSC staff upon redemption of FREE movie ticket.
» FREE movie ticket is not exchangeable for cash.
» Not valid with other GSC offers.
» Not valid for Gold Class, Premiere Class and Twin Seats, MAXX and D-BOX.
» Birthday Treat Coupon is available via print out from www.gsc.com.my by GSC website members only.
Batman v Superman: Dawn of Justice – Official Trailer 2 [HD]