Homegrown condom manufacturer, Karex Bhd, has get the shareholders approval to issue out a Bonus Issue.
Bonus Issue is an issue of additional shares to shareholders instead of a dividend, in proportion to the shares already held.
The ex date would be 26/03/2014. So if you wish to enjoy this bonus issue then buy the stock before 26/03/2014.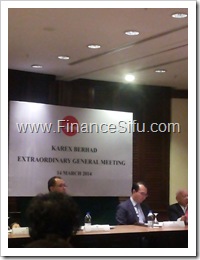 For example, assuming Mr.John own 1,000 of Karex Bhd before the ex date, he will get extra 500 extra shares based on the basis of 1 Bonus Share for every 2 Karex Shares.
Therefore at the end, he'll have 1,500 in total. At the same time the share price will be adjusted down.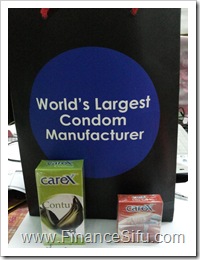 Do you Believe this?
All the shareholders who attended the Extraordinary General Meeting(EGM) of Karex Berhad got a sample of condoms as a door gift!
I guest the shareholder must use the products to understand the company better.
At the same time, condom manufactured by Karex Bhd are not available at Klang Valley as it focus more on export market.
Karex at this moment has a 10 per cent share in the global condom market, is expected to show some good growth number this year.
This is because of the growing global population and more adult are aware  the importance of condom usage.
5247    KAREX  :  KAREX BERHAD
Bonus Issue 1 : 2
Entitlement Details:
Bonus issue of 135,000,000 new ordinary shares of RM0.25 each in Karex Berhad ("Karex") ("Karex Shares") ("Bonus Shares") to be credited as fully paid-up on the basis of 1 Bonus Share for every 2 Karex Shares held by the shareholders of Karex as at 5.00 p.m. on 28 March 2014 ("Entitlement Date") ("Entitled Shareholders") ("Bonus Issue")
Entitlement Type: Bonus Issue
Entitlement Date and Time: 28/03/2014  05:00 PM
EX Date: 26/03/2014
A Depositor shall qualify for the entitlement in respect of:
– Securities transferred into the Depositor's Securities Account before 28/03/2014 04:00 PM in respect of ordinary transfers.
– Securities bought on KLSE on a cum entitlement basis according to the Rules of the KLSE.
Remarks :
The Bonus Issue will entail the issuance of 135,000,000 Bonus Shares, to be credited as fully paid-up, on the basis of 1 Bonus Share for every 2 existing Karex Shares held by the Entitled Shareholders.
The Bonus Shares will be listed and quoted on the Main Market of Bursa Malaysia Securities Berhad ("Bursa Securities") on 31 March 2014, being 1 market day after the Entitlement Date.
Karex's Share Registrar is expected to issue and despatch the notices of allotment for the Bonus Shares to the Entitled Shareholders not later than 4 market days after the date of listing of and quotation for the Bonus Shares on the Main Market of Bursa Securities.
Karex share performance since Listing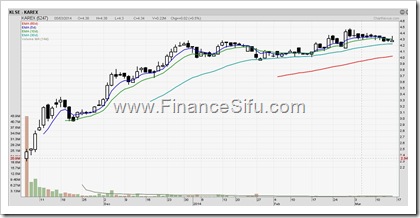 GENERAL MEETINGS: NOTICE OF MEETING
KAREX BERHAD
5247    KAREX    KAREX BERHAD
GENERAL MEETINGS: NOTICE OF MEETING
Type of Meeting : Extraordinary General Meeting
Indicator : Notice of Meeting
Description : Notice of Extraordinary General Meeting of Karex Berhad
Date of Meeting : 14/03/2014
Time : 10:00 AM
Venue : Bintang I & II (Level 3), JW Marriott Hotel Kuala Lumpur, 183 Jalan
Bukit Bintang, 55100 Kuala Lumpur, Malaysia
Date of General Meeting Record of Depositors : 10/03/2014
GENERAL MEETINGS: OUTCOME OF MEETING
On behalf of Karex Berhad ("Karex"), CIMB Investment Bank Berhad wishes to announce that the shareholders of Karex have approved the ordinary resolution set out in the Notice of Extraordinary General Meeting ("EGM") dated 27 February 2014 at Karex's EGM held today.
This announcement is dated 14 March 2014.
Rubber riches give Malaysia's Karex the condom crown
Karex Corporate Video
COMPANY PROFILE: Karex Industries Sdn. Bhd
Karex Industries Sdn. Bhd. was established in 1988 to manufacture high quality natural rubber latex condoms and other latex dipped products. As a leading condom manufacturer in Malaysia, we produce a full range of condom variants to meet the ever changing consumer demands.
We have several state-of-the-art production plants in Malaysia and overseas manufacturing a wide range of condoms and other latex based medical disposables to cater to the worldwide market.
Karex Industries is managed by a team of highly qualified and experienced professionals throughout the years and have developed machine manufacturing capabilities which has given us the edge to build our own production plants.
We are committing ourselves to a strategy of continuous improvement, relentlessly seeking to learn the expectations at every juncture.
How to Put On A Condom
Hilarious Condom Commercials Banned From TV