JT International Bhd made an announcement to Bursa Malaysia on 21 May 2014 after the market have close. (after 5 pm), on the REVISED takeover offer price to RM8.20 from RM7.80 previously.
If you look at the price pattern of JT International Bhd on 21 May 2014, you'll notice the price were suddenly PUSH UP by "invisible hand" starting from 3pm onwards.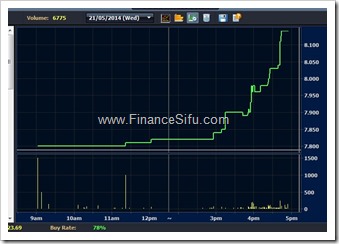 ---
It was closed  at RM8.14(Up by RM0.35) as the number one Top Gainer at Bursa Malaysia for the day.
The general public especially the minority shareholders, have acknowledge that the take offer price was fixed at RM7.80 and never it the past the price have ever break above RM7.80 high. Therefore, nobody in logical sense will buying up JT International Bhd's stock to above RM7.80 unless they know something special.
Off course, It will not be you and me!
My logic was wrong as they are some invisible hand who were more willing to buy up the stock until it hit RM8.14.
I don't know who are those invisible hand but I guest the enforcement people at Bursa Malaysia will know who the buyers are. They have all the records of the buyer and seller for that(all)  stocks.
I guest those invisible hand must have get the "insider information" earlier than the general public and act on this sensitive information.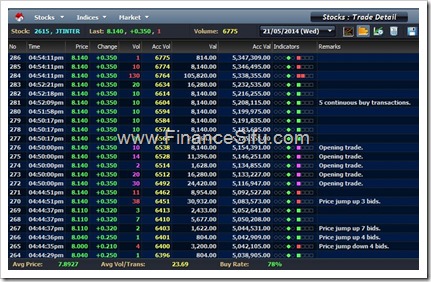 Tell me what would you do if you still holding the JT International Bhd's stock and notice the price has break above the offer price of RM7.80(i,e RM7.90)  at 3pm on 21 May 2014?
I guest you'll sell it at RM7.90 in the market,right?
From a short of 2 hours of trading, from 3pm to 5pm, the value traded for JT International Bhd's stock was over RM2 Million.
But who are those buyers?
Is this an Insider Trading in Bursa Malaysia?
Nobody will know except the brokers and the people at Bursa Malaysia!
———————————————
TAKE-OVERS & MERGERS (CHAPTER 11 OF LISTING REQUIREMENTS) JT International Berhad ("JTI Malaysia" or "the Company") Notice of Revised Offer in relation to the Conditional Take-Over Offer by JT International Holding B.V. ("Offeror") through CIMB Investment Bank Berhad ("CIMB") to acquire all the remaining ordinary shares of RM0.25 each in JTI Malaysia ("Shares") which are not already held by the Offeror ("Offer Shares") ("Offer")
JT INTERNATIONAL BERHAD:
We refer to the Company's announcements dated 31 March 2014, 7 April 2014, 21 April 2014, 2 May 2014 and 9 May 2014.
We wish to inform that the Company has today, 21 May 2014, received the attached Notice of Revised Offer from CIMB, on behalf of the Offeror, informing that the offer price for the Offer Shares has been revised to RM8.20 per Offer Share ("Revised Offer").  Holders of the Offer Shares who have accepted the Offer at the original offer price of RM7.80 per Offer Share will be entitled to receive the revised cash consideration of RM8.20 per Offer Share under the Revised Offer.
The Revised Offer shall remain open for acceptances up to 5.00 p.m. (Malaysian time) on 5 June 2014.
Up to 21 May 2014, CIMB has received the following irrevocable undertakings to accept the Revised Offer:-
(a) from the Employees Provident Fund Board for 21,265,800 Shares, representing 8.13% of the issued and paid-up capital of JTI Malaysia;
(b) from Kumpulan Wang Persaraan (Diperbadankan) for 17,881,800 Shares, representing 6.84% of the issued and paid-up capital of JTI Malaysia;
(c) from Great Eastern Life Assurance (Malaysia) Berhad for 12,362,870 Shares, representing 4.73% of the issued and paid-up capital of JTI Malaysia; and
(d) from Permodalan Nasional Berhad for 10,300,585 Shares, representing 3.94% of the issued and paid-up capital of JTI Malaysia.
The level of acceptances of the Revised Offer in respect of shares of JTI Malaysia as at 5.00 p.m. (Malaysian time) on 21 May 2014 is set out in the attached press notice.
This announcement is dated 21 May 2014.
JT International revises up offer price
PETALING JAYA: JT International Bhd's parent JT International Holding BV (JTIH) has revised up the takeover offer price to RM8.20 from RM7.80 previously, after only getting 11.37% acceptances for its previous offer.
The new offer, which represents an upward adjustment of 40 sen or 5.13% of the initial offer, values JT International, which sells tobacco brands such as Winston, Camel, Mild Seven (now Melvius), Benson & Hedges in Malaysia, at RM2.14 billion. Shareholders have until June 5 to accept the revised offer.
In a filing with Bursa Malaysia, it said the revised offer price represents a premium of 30.2% or RM1.90 against the five-day volume weighted average market price up to March 27 of RM1.90.
The stock closed up 35 sen to RM8.14 yesterday, with some 677,500 shares changing hands.
As at May 26, JTIH holds a 71.86% stake in JT International, with 11.37% acceptances received from shareholders on top of the 60.37% it holds prior to the takeover offer.
TA Securities Holdings Bhd, the independent adviser for the deal had advised minority shareholders to accept the earlier offer.
From: thesundaily.my/news/1053192