Do you know that you can transfer shares out to your family member?
However you can't transfer  to someone else's account who is not your family member.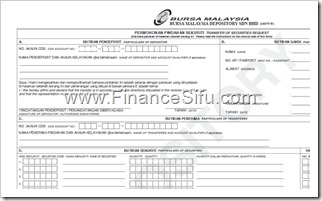 By definition, the family member means the transferor (the person who initiates the transfer) and transferee (the person who receives the transferred securities), have  the following relationships:
1. Parents
2. Children/Adopted children
3. Spouse
4. Brothers
5. Sisters
6. Grandparents
7. Grandchildren
The transferor are  required to enclose the relevant supporting documents when initiating such transfers such as birth certificates/ marriage certificate etc.
The share can only to be transfer out from Direct CDS  or account nominee accounts held by an Authorized Nominee (where the individual depositors are indicated as beneficial owners).
Do visit your Broker the perform this transferring process.
How To Fill Up the Transfer of Securities Request Form?
You may refer to the steps below for the procedure of transfer of securities:
1. Fill up the details in the Transfer form as below (refer to attached file):-
•    Section A : Particulars of Depositor
•    Section C : Particulars of Transferee
•    Section D : Particulars of Securities
Reason For Transfer : Category B : Change in Beneficial Ownership
                                                   B2: Family Member
2. Transfer fee is based on the number of securities requested for transfer. For Each counter is RM10.00.
Something for Everyone on Bursa Malaysia
What kind of investor are you?