I noticed the Inland Revenue Board Of Malaysia(IRBM) Kuala Lumpur Bandar Branch was shifted to Menara Olympia, Jalan Raja Chulan, Kuala Lumpur.
The old office  location at Jalan Kg. Attap, Kuala Lumpur was closed permanently.
It's a good decision as this place is easily accessible by any public transport and located at the city center.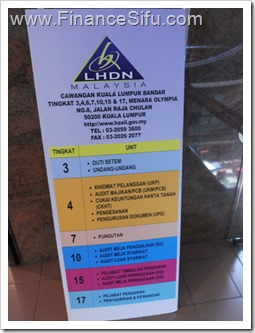 You may proceed to 3rd floor to do stamping of the document like Tenancy Agreement etc.
New Address:
Lembaga Hasil Dalam Negeri Malaysia
Cawangan Kuala Lumpur Bandar
Tingkat 3,4,6,7,10,15 dan 17
Menara Olympia
No. 8, Jalan Raja Chulan
50200 Kuala Lumpur
General Line : 03-2059 3600
About Inland Revenue Board of Malaysia (IRBM)
The Inland Revenue Board of Malaysia (IRBM) is one of the main revenue collecting agencies of the Ministry of Finance.
IRBM was established in accordance with the Inland Revenue Board of Malaysia Act 1995 to give it more autonomy especially in financial and personnel management as well as to improve the quality and effectiveness of tax administration.
The Department of Inland Revenue Malaysia became a board on March 1, 1996, and is now formally known as IRBM.
The agency is responsible for the overall administration of direct taxes under the following Acts :
Income Tax Act 1967,

Petroleum (Income Tax) Act 1967,

Real Property Gains Tax Act 1976,

Promotion of Investments Act 1986,

Stamp Act 1949,

Labuan Business Activity Tax Act 1990.
Functions of the Board
To act as agent of the Government and to provide services in administering, assessing, collecting and enforcing payment of income tax, petroleum income tax, real property gains tax, estate duty, stamp duties and such other taxes as may be agreed between the Government and the Board;

To advise the Government on matters relating to taxation and to liaise with the appropriate Ministries and statutory bodies on such matters;

To participate in or outside Malaysia in respect of matters relating to taxation;

To perform such other functions as are conferred on the Board by any other written law;

May act as a collection agent for and on behalf of any body for the recovery of loans due for repayment to that body under any written law.
Pendidikan Cukai: Tanggungjawab Menyimpan Rekod Perniagaan
Individu yang memulakan perniagaan adalah bertanggungjawab menyedia dan menyimpan rekod asas pernigaan seperti buku tunai, dokumen perniagaan, penyata akaun, penyata lain-lain pendapatan (penyata sewa/penyata komisen).
Pendidikan Cukai: Individu Yang Bekerja Sendiri
Perniagaan terdiri daripada individu milikan tunggal/bekerja sendiri dan pekongsian. Keuntungan yang diperolehi daripada menjalankan perniagaan, perdagangan, pencarian atau profesion adalah merupakan pendapatan yang layak dikenakan cukai.
Pendidikan Cukai: Tanggungjawab Mendaftar Fail Cukai Pendapatan
Tanggungjawab Pembayar Cukai (punca perniagaan) Apabila Memulakan Perniagaan