Air Asia always running a great promotion in Almost every week.
For this week onward from 31 Oct 2016, you can travel to Hanoi with a return ticket from Kuala Lumpur, for only RM327.08!
Normal fare can easily cost you around RM600
If you keen to travel to Gold Coast from Kuala Lumpur(8 hours Flight), the return ticket only cost RM555!
What a great Deal!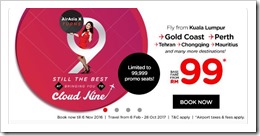 Do take note that Seats are limited and may not be available on all flights
Return Ticket to Hanoi for RM327.08!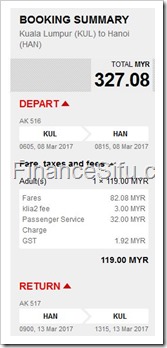 Do check the Weather condition before purchasing your ticket!
Happy Holiday!
Return Ticket to Gold Coast for RM554.92!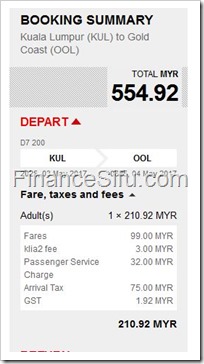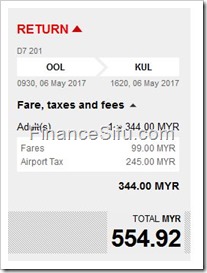 Terms & Conditions apply
• A non-refundable processing fee is applicable for payments via credit, debit or charge card.
• Fare includes airport taxes (except for selected airports where airport tax is collected at the point of departure).
• Seats are limited and may not be available on all flights
• Valid for new purchases only
• All fares are quoted for single journey (one-way) only
• All taxes must be paid at the time of purchase unless otherwise stated
• Foreign fares are subjected to currency exchange rates
• Offer is subject to availability and AirAsia's Terms and Conditions of Carriage
• No refunds are permitted after payment has been made
• Guests travelling need to provide all necessary travel documents (eg valid passport, visa where applicable etc) at the time of departure
• AirAsia reserves the right to deny guests from boarding without proper documentation
• Full payment shall be made upon booking • Changes to flights and dates are permitted subject to change fees
• Changes to name are not permitted • Only available for online bookings
Domestic destination
Travel Date:
31 October 2016 – 25 May 2017
| | |
| --- | --- |
| Destination | Price |
| Alor Setar | 29 |
| Bintulu | 79 |
| Johor Bahru | 29 |
| Kota Bharu | 29 |
| Kota Kinabalu | 89 |
| Kuala Terengganu | 29 |
| Kuching | 69 |
| Labuan | 89 |
| Langkawi | 49 |
| Miri | 59 |
| Penang | 39 |
| Sandakan | 139 |
| Sibu | 79 |
| Tawau | 129 |
| | |
| --- | --- |
| Destination | Price |
| Alor Setar | 29 |
| Johor Bahru | 29 |
| Kota Bharu | 29 |
| Kuala Terengganu | 29 |
| Penang | 39 |
| Langkawi | 49 |
| Miri | 59 |
| Kuching | 69 |
| Bintulu | 79 |
| Sibu | 79 |
| Kota Kinabalu | 89 |
| Labuan | 89 |
| Tawau | 129 |
| Sandakan | 139 |
International destination
Travel Date:
31 October 2016 – 25 May 2017
| | |
| --- | --- |
| Destination | Price |
| Banda Aceh | 79 |
| Bangkok – Don Mueang | 109 |
| Bengaluru | 269 |
| Brunei | 99 |
| Cebu | 268 |
| Changsha | 309 |
| Chennai | 229 |
| Chiang Mai | 99 |
| Colombo | 399 |
| Da Nang | 179 |
| Dhaka | 339 |
| Guangzhou | 279 |
| Guilin | 259 |
| Hanoi | 89 |
| Ho Chi Minh City | 69 |
| Hong Kong | 219 |
| Hyderabad | 219 |
| Kalibo | 229 |
| Kaohsiung | 299 |
| Kochi | 129 |
| Kolkata | 269 |
| Krabi | 83 |
| Kunming | 299 |
| Lombok | 209 |
| Luang Prabang | 139 |
| Macao | 559 |
| Makassar | 209 |
| Male | 199 |
| Nanning | 239 |
| Padang | 79 |
| Palembang | 69 |
| Pattaya – U-Tapao | 99 |
| Pekanbaru | 89 |
| Phnom Penh | 109 |
| Phuket | 69 |
| Pontianak | 109 |
| Semarang | 179 |
| Shantou | 259 |
| Shenzhen | 259 |
| Siem Reap | 99 |
| Singapore | 55 |
| Surat Thani | 79 |
| Tiruchirappalli | 189 |
| Vientiane | 189 |
| Visakhapatnam | 209 |
| Yangon | 149 |
| Yogyakarta | 189 |
| | |
| --- | --- |
| Destination | Price |
| Singapore | 55 |
| Ho Chi Minh City | 69 |
| Palembang | 69 |
| Phuket | 69 |
| Banda Aceh | 79 |
| Padang | 79 |
| Surat Thani | 79 |
| Krabi | 83 |
| Hanoi | 89 |
| Pekanbaru | 89 |
| Brunei | 99 |
| Chiang Mai | 99 |
| Pattaya – U-Tapao | 99 |
| Siem Reap | 99 |
| Bangkok – Don Mueang | 109 |
| Phnom Penh | 109 |
| Pontianak | 109 |
| Kochi | 129 |
| Luang Prabang | 139 |
| Yangon | 149 |
| Da Nang | 179 |
| Semarang | 179 |
| Tiruchirappalli | 189 |
| Vientiane | 189 |
| Yogyakarta | 189 |
| Male | 199 |
| Lombok | 209 |
| Makassar | 209 |
| Visakhapatnam | 209 |
| Hong Kong | 219 |
| Hyderabad | 219 |
| Chennai | 229 |
| Kalibo | 229 |
| Nanning | 239 |
| Guilin | 259 |
| Shantou | 259 |
| Shenzhen | 259 |
| Cebu | 268 |
| Bengaluru | 269 |
| Kolkata | 269 |
| Guangzhou | 279 |
| Kaohsiung | 299 |
| Kunming | 299 |
| Changsha | 309 |
| Dhaka | 339 |
| Colombo | 399 |
| Macao | 559 |
AiR Asia X
Travel Date:
6 February 2017 – 28 October 2017
| | |
| --- | --- |
| Destination | Price |
| Auckland | 606 |
| Beijing | 306 |
| Busan | 386 |
| Chengdu | 276 |
| Chongqing | 266 |
| Gold Coast | 381 |
| Hangzhou | 276 |
| Mauritius | 386 |
| Melbourne | 377 |
| New Delhi | 355 |
| Osaka – Kansai | 366 |
| Perth | 201 |
| Sapporo – Shin-Chitose | 456 |
| Seoul | 406 |
| Shanghai | 306 |
| Sydney | 369 |
| Taipei | 276 |
| Tehran | 476 |
| Tokyo – Haneda | 386 |
| Xi'an | 266 |
| | |
| --- | --- |
| Destination | Price |
| Perth | 201 |
| Chongqing | 266 |
| Xi'an | 266 |
| Chengdu | 276 |
| Hangzhou | 276 |
| Taipei | 276 |
| Beijing | 306 |
| Shanghai | 306 |
| New Delhi | 355 |
| Osaka – Kansai | 366 |
| Sydney | 369 |
| Melbourne | 377 |
| Gold Coast | 381 |
| Busan | 386 |
| Mauritius | 386 |
| Tokyo – Haneda | 386 |
| Seoul | 406 |
| Sapporo – Shin-Chitose | 456 |
| Tehran | 476 |
| Auckland | 606 |