Normally there is no need to get a Visa for visiting ASEAN countries. However in reality,  Malaysian need a visa to enter Myanmar. This one I don't understand.
I read in the paper that the visa to visit Myanmar shall be abolish.
I'm not sure when this will be happening. For now, all Malaysian need to apply Visa before visiting Myanmar.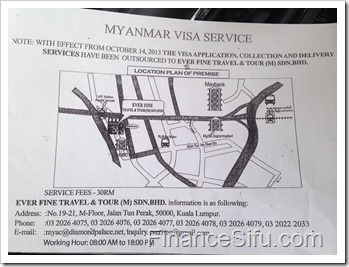 I got my Visa done at Ever Fine Services (M) Sdn. Bhd in Kuala Lumpur.
You may apply in the Myanmar Embassy in Malaysia, Kuala Lumpur too as all my other friends in my travel group did this at the Embassy.
They paid Net RM140 without any GST and Same day Visa collection.
Through a special mandate by the Embassy of the Republic of the Union of Myanmar, EVER FINE is granted the authority to process the travel visa for visitors wishing to travel to Myanmar.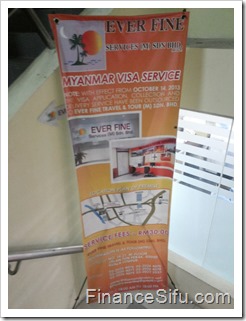 There are few type of VISA:
Tourist Visa
Business Visa
Multiple Visa
Social Visit Visa
Meditation Visa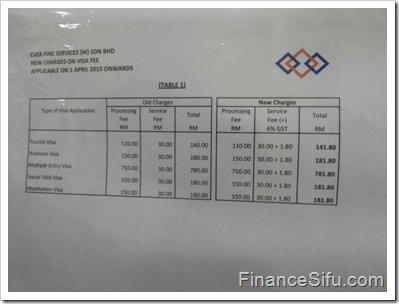 In this post, the focus will be on Tourist Visa.
The Tourist Visa have only one option which is on a single entry.
There is no Multiple Visa for Tourist Visa. Therefore if you wish to visit Myanmar three times in a few months then you got to apply 3 Tourist Visa.
Myanmar (Burma): a travel documentary
TOURIST VISA
The tourist visa applicant must duly fill and sign the applicant form and affix the two white colour background photos on it.
Tourist may only stay in hotels and guesthouses during their stays in Myanmar.
The necessary documents are:
– Original Passport with at least 6 months validity
– A photocopy of Passport
– A photocopy of IC/PR/EP/Student Pass
– Air Ticket (Return ticket)
– Birth Certificate for the child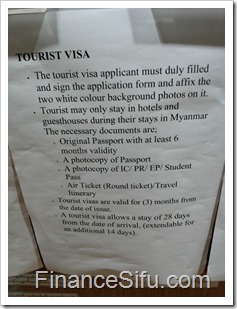 Tourist Visas are valid for 3 months from the date of issue.
A tourist visa allows a stay of 28 days from the date of arrival, (extendable for an additional 14 days).
When I apply the visa, Air Ticket (Return ticket) and A photocopy of IC were NOT required in my case. It cost me Net RM141.80
Breakdown of the Visa Cost:
Visa Fee = RM110
Service Fee = RM30
GST = RM1.80
Total= RM141.80
Should you submit the complete document before noon, the Visa shall be ready for collection by 4.30pm on the same day.
Ever Fine Services office is located opposite of McDonald's Jalan Tun Perak and nearby to Masjid Jamek LRT Interchange Station.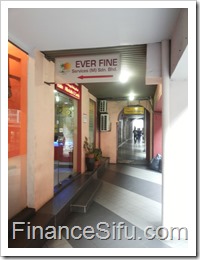 Ever Fine Services (M) Sdn. Bhd
Address :
No. 19-21, M-Floor,
Jalan Tun Perak,
50000 Kuala Lumpur.
Telephone: 03-2026 4075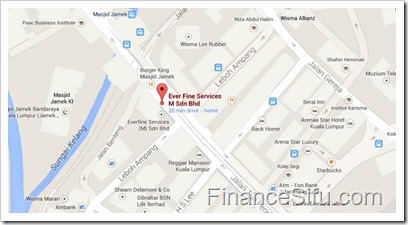 Myanmar Embassy in Malaysia, Kuala Lumpur
Address :
No.8C, Jalan Ampang Hilir, 55000 Kuala Lumpur, Malaysia.
Telephone: +603-42516355
Myanmar Vacation Travel Video Guide
Travel video about destination Myanmar.
Myanmar is a land of golden pagodas in which rivers, paddy fields and Buddhism dominate the lives of this country's people who are made up of a variety of ethnic groups. But behind the bamboo curtain is a sleepy fairy tale land.Yangon is a river city and the capital of Myanmar. It is surrounded by India, China, Laos and Thailand. Few cities in Asia boast such a fascinating mêlée of tribes and cultures. A tranquil harmony of churches, pagodas, Hindu temples and mosques. The Chaukhtatkyi Pagoda contains one of the largest prone Buddha statues in the world. Its length makes up for its lack of artistry as it is seventy metres long! The Shan State Express is a sonorous name for a unique train that travels to the north of Myanmar and to the legendary kingdom of the Shan. The railroad travels in a zigzag up the mountains which enables it to negotiate severe slopes that would otherwise be impossible for it to climb vertically. It provides a fascinating insight into the culture and everyday life of the Shan people. The city of Pyin U Lwin, that is also known as Meymo, was once a British military base. Even today the city still has a certain air of nostalgia and passengers are offered various refreshments as the train journey normally takes more than twelve hours. Ox carts transport visitors to one of the most interesting buildings in Mingun, the Mingun Pagoda. It was designed to be the world's largest pagoda. Huge numbers of workers built this seventy two metre wide and fifty metre high building. Bagan is the country's ancient capital city. Prior to visiting the largest area of Buddhist ruins in the world visitors can enjoy both traditional puppet shows and dance. Classical myth and legend make up this theatrical treat of which each puppeteer is responsible for up to sixty strings. Any journey through Myanmar is a journey into the past and to a hidden world of dreams and mystique. This gateway to paradise is slowly opening up and revealing a splendid land of bygone times!
Yangon, Myanmar Travel 2014 – The Best Travel Documentary.
Across Myanmar with a Backpack
It's a short travel documentary in Myanmar-Burma.
A fascinating view into one of the worlds most enigmatic territories and its culture with no more than backpack and curiosity, a trek that takes you from the city to the wilderness. Painting you a picture of the yet widely undiscovered and unmentioned side of Myanmar.