Do takes note that all the economy class passengers flying out from KLIA are required to performed a mandatory self check-in starting from July 15.
MAS airport services senior manager Mohd Mazlan Md Noor said that their aim is to make travelling quick and reduce the hassle of checking in at counters at the airport.
Are they trying to follow the Air Asia, budget Airlines, concept to cut cost?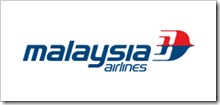 Maybe this is one of the way to save cost in order to save this ailing airline.
Just looking at the Malaysia Airlines' share price below since 2011.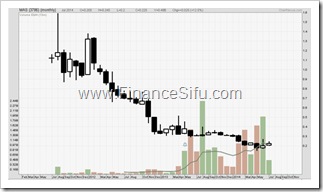 Many of their shareholder who bought the share at RM1.40(after Bonus Issue adjustment etc) will incur a massive huge loss(over 85% drop in value) as the current price is hovering around RM0.20.
No wonder their shareholders many a lot of noise during the last Annual General Meeting(AGM)
Guide for self check-in at MAS counters
Instructional guide for self check-in at MAS counter.
Press Release by Malaysia Airlines
Save Time and Reduce Hassle
Malaysia Airlines introduces mandatory self check-in for flights out of Kuala Lumpur
Subang, 8 July 2014: Malaysia Airlines' customers will now save valuable time and reduce the hassle by checking in for flights out of Kuala Lumpur via the self check-in options available. The national carrier will introduce a mandatory self check-in requirement for all Economy class passengers flying out of KLIA starting 15 July 2014.
For up to 48-hours prior to a flight, customers can choose to either check in via MHweb check-in on www.malaysiaairlines.com, or MHmobile check in on flymas.mobi or use the Self Service Check-in Kiosks located at KLIA and Putrajaya ERL station. There are currently 34 kiosks available throughout KLIA. Smart phone users may also download the free MHmobile app for easy check-in. First Class and Business Class passengers who wish to do self check-in may also do so through any of the options available.
The conventional check-in counters for Economy class passengers at KLIA will now be replaced with Bag Drop counters. Two special handling counters will be operated at E15 and E16 at KLIA. These counters will serve unaccompanied minors and disabled customers.
Malaysia Airlines is progressively introducing more technology-enabled options to passengers, such as self baggage tagging and the automated baggage drop to empower passenger to take control of their own pre-embarkation experience at KLIA.
According to Malaysia Airlines Director of Customer Services, Dato' Salleh Ahmad Tabrani, "Self Check-in is a prelude to implementation of the Automated Baggage Drop and Self Tagging. Once fully implemented, the Self Service Check-in kiosk will allow passengers to take control of their check-in experience and manage their time accordingly. Using this technology and innovation to automate the check-in process will ease congestion at check-in counters. Our guests will benefit as it will reduce their time spent waiting in queue. We urge all Malaysia Airlines' guests to take note of this new development."
Customers will only need their booking reference or the 13-digit E-Ticket number to perform the Self Check-in. Customers are advised to ensure all documents required for travel is up-to-date. For international travel, passports and entry visas must be valid. For travel to Sabah and Sarawak, a valid MyKad or MyKid is essential.
For more info on the Self Check-in option, log on to www.malaysiaairlines.com
from: Malaysia Airlines
ABOUT MALAYSIA AIRLINES
Malaysia Airlines, the country's national carrier, was first incorporated as Malayan Airways Limited (MAL) on 12 October 1937.
Today, Malaysia Airlines flies around 37,000 passengers daily to 80 destinations worldwide and holds a lengthy record of service and best practices excellence, having received more than 100 awards in the last 10 years.
In 2012, it was the recipient of the World's 5-Star Airline Award by Skytrax, UK and World's Best Cabin Staff by Skytrax, UK and in 2011 awarded the 'World's Leading Airline to Asia' by World Travel Awards (WTA).
Malaysia Airlines' present fleet of 88 aircraft includes Boeing 747-400, Boeing 777-200, Airbus 330-300, Airbus 330-200, Boeing 737-800 and Boeing 737-400 and its flagship, the Airbus A380-800, operates more than 250 departures a day. It boarded 13 million passengers in 2011, generating revenues of MYR 13.6 billion (US$ 4.5 billion).
The national carrier achieved a significant milestone in 2012 when it received its first Airbus A380-800 followed by a historic Malaysian record on 1 July 2012 with the launch of its A380 scheduled service between KL International Airport and London Heathrow.
On 1 February 2013, Malaysia Airlines became a full-fledged member of oneworld alliance and is now connected to some 850 destinations in 150 countries across the oneworld alliance network.
Emerging Stronger – Interview with Ahmad Jauhari, Group CEO of Malaysia Airlines
Ahmad Jauhari Yahya, our Group CEO, shares his belief that moving forward, Malaysia Airlines will emerge stronger as an airline.
Malaysia Airlines is Uniglobe's Preferred Choice
Saurabh Narain CEO, Uniglobe ATB, explains how closely and satisfactorily they have been working with Malaysia Airlines for the past 3 years. He explains how the airline has changed the game in the last five years and that their collaboration is keeping in mind the investment and network expansion from a corporate perspective. He also believes that the safety standards of Malaysia Airlines are one of the highest in the world. Saurabh patronizes Malaysia Airlines and is happy to be associated with it.
Malaysia Airlines A330 KUL-MEL Flight Experience
Malaysia Airlines A330 KUL-MEL Flight Experience, featuring:
– Check In
– MH Golden Lounge
– Boarding
– Pushback
– Start
– Taxi
– A380 departing
– Takeoff
– Climb
– Meal Service
– Cabin Views
– Passing into Australia
– Snack Service
– Skymap
– Descent
– Holding pattern
– Landing
– Shutdown
April 2014
Malaysia Airlines B777-200ER Auckland to Kuala Lumpur amazing journey onboard MH132