The newly opened retail mall,IOI City Mall is located  just along the main road and well connected via LDP, SKVE, Besraya, MEX, SILK and North-South Highway.
If you are coming from Kajang via SILK or North-South Highway, the IOI City Mall is situated on your Right Side.
The signboard along the highways is very clear too. So just follow the signboard and you will be there in a very short time.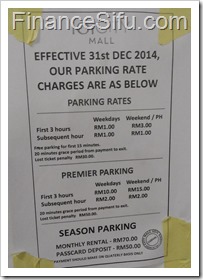 ioi city mall putrajaya ice skating
IOI City Mall Parking Rates
Effective on 2nd Jan 2015, the parking rate charges are as below;
Weekdays      
First 3 hours : RM 1.00
Subsequent hour : RM 1.00
Weekend / Public Holiday  
First 3 hours: RM 3.00
Subsequent hour :  RM 1.00
** Free parking for the first 15 minutes.
** 20 minutes grace period from payment to exit.
Lost ticket penalty RM 30.00
IOI City Mall Putrajaya Water Dance
Soft launch for the IOI City Mall on the 23rd of November 2014.
Maze @ District 21
IOI City Mall