Do you known our National Library of Malaysia or also known as Perpustakaan Negara Malaysi,a have a good collection of books that are available for borrowing?
Do takes some time to make a visit to National Library of Malaysia to check out their books. After all their membership is free anyway. Personally, I have stop from buying most of the books. Books today is not cheap as it can easily cost over RM200 especially imported books.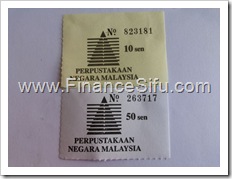 Sometimes I overlook on the due date of the books borrowed.
I was late in returning the books which borrowed from National Library of Malaysia. As a result to that, a fines of RM0.60 was charged for books overdue for 2 days.
The fines are levied on overdue Library books. However no fines will be charged for the days when the National Library of Malaysia is closed. Should anyone has any overdue Library materials, they will not be renew.
Renewal of books was allowed once and can be done through the telephone. The  books borrowed are for 3 weeks period.
I borrowed 3 books which was due on 27th May 2014 and returned it on 29th May 2014. So late for 2 days. Each day is fine RM0.10. Therefore, my overdue fines was RM0.60
National Library of Malaysia Address:
Perpustakaan Negara Malaysia
232 Jalan Tun Razak,
50572 Kuala Lumpur,
Wilayah Persekutuan Kuala Lumpur
Malaysia National Library (Perpustakaan Negara Malaysia) Opening Hours
Tuesdays to Saturdays : 10.00 am – 7.00 pm
Sundays :  10.00 am – 6.00 pm
CLOSED:  Monday & Public Holidays
Telephone for Book Renewal : 03-2687 1791 and  03-2687 1748