Now you can Fly with AirAsia's Lowest Fares to Japan, for only RM780 Net!
It's consider cheap for a return flight ticket to Japan as the compulsory Tax charge amount can added up to RM450. Anything that less than RM800 is consider cheap.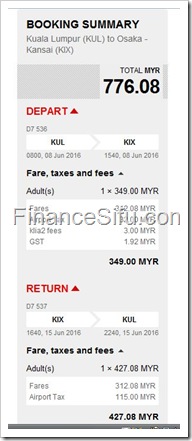 It's a seven hours direct flight to Kansai Airport from klia2.
AirAsia only fly to Haneda(Tokyo) and Kansai(Osaka) Airport.
12 Things to Do in Osaka, Japan (Must See Attractions)
Osaka, Japan is a top destination for travelers interested in Japan. With the third largest population in Japan, Osaka offers diverse choices for "things to do" if visiting.
Whether it's food, sightseeing, shrines, or martial arts, Osaka, Japan has something for everyone. I hope this video gives some great options for anyone interested in traveling to the Land of the Rising Sun.
In order to cover more areas, do consider to start from Haneda(Tokyo) and end at Kansai(Osaka) Airport, or  Vice versa.
Anyway,  Osaka  is a big area and need at least a month to cover all the areas.
I like Japan because it's very Clean, Organize and Systematic. Their people are helpful and  friendly too :-)
Do take note that English language is NOT well spoken there.
Must Go to Places in Namba (難波) in Osaka, Japan 大阪ミナミ(難波)で行くべき所
I used to live in Osaka for many years. When my families visited me, I always took them to Namba/Nanba for sightseeing. I'm going to share the best places in Namba with you.
⇓⇓⇓
I always start from JR Namba/Nanba station.
・Kogaryu 甲賀流, 2-18-4 Nishishinsaibashi, Chuo-ku, Osaka (Best Takoyaki Store!)
・Triangle Park 三角公園 (is right across the street from Kogaryu.)
・Big Step,1-6-14 Nishishinsaibashi, Chuo-ku, Osaka
・Midousuji 御堂筋 (Specifically, when the leaves of Ginkgo trees along Midousuji Street turn yellow in November, it is so beautiful!)
・Ebisu Bridge 戎橋, (There is Glico's giant electronic display. It is more beautiful at night.)
・Dotonbori 道頓堀
・Kamukura Ramen 神座, 1-7-3 Dotonbori, Chuo-ku, Osaka
・Hozenji Yokocho 法善寺横丁
・Sennichimae 千日前
・Jiyuken 自由軒, 3-1-34 Namba Chuo-ku Osaka
・551 Horai 蓬莱, 3-6-3 Namba Chuo-ku Osaka
・Rikuro Ojisan no Cheese Cake りくろ―おじさんのチーズケーキ, 3-2-15 Namba Chuo-ku Osaka (I didn't mention it in this video, but they make delicious cheese cakes. When I go to Namba, I always buy some there. A whole cheese cake is only 630yen!)
・Muji 無印良品, Nanba Center Buiding B2-3F, 12-22 Sen-nichimae, Nanba, Chuo-ku, Osaka

Welcome to Japan: Episode 1 – Osaka