I've a great concern on the Beijing air pollution before travelling to Beijing.
Should you watch the self-financed documentary called Under the Dome,  by Chai Jing, an ex radio host and news presenter, from China Central Television (CCTV) then you'll know what is the main concern. Watch the video at How Bad Is the Air pollution in China?
Luckily my visit was after a week of the China's massive military parade.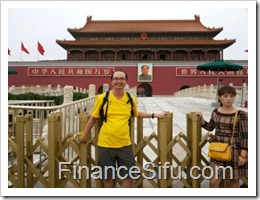 The parade was held in conjunction with 70th anniversary of Japan's defeat in World War II. More than ten thousands of factories were ordered to shut down and  many of the coal-burning boilers operation were restricted. Even the car usage were restricted too. All these efforts has transform Beijing's notoriously polluted sky into an azure blue.
During my visit to Beijing, the sky was clear with Blue Sky!

I fly by AirAsia from Kuala Lumpur International Airport 2 (klia2) to Beijing Capital International Airport (Terminal 2). The flight took about 6 hours and full with Mainland Chinese tourists going back to their own country.
I guest maybe they try to avoid taking the Malaysia Airlines (MAS) after the unfortunate  MH370 incident.
My flight leaved klia2 about 7pm and reached Beijing Capital International Airport around 1:05am. Since it  was past mid night, many public transport like bus and train etc, were not available except public Taxi.
Those who want to save money can sleep at the airport. So I spend a night at the airport to save on the  public Taxi expense and half day hotel accommodation. I plan to took the first Airport Express of Beijing subway, in the next morning.
There were plenty of empty chairs around for you to lay a night.
Do remember to bring your own supply of Cup Noodle as FREE hot water were always available near to the toilet.
The temperature outside was around 18 Celsius and cooling. That's my Day 1 in Beijing.
Inside Beijing Airport, China
Olympic song "Beijing Welcomes You"
Stage-Show of《Beijing Welcome You>>
Day 2:
I stay at the Beijing Downtown Backpackers Travel & Accommodation.
Address: No. 85, Nan Luo Gu Xiang, Jiao Dao Kou, Dong Cheng District, Beijing, China.
Address (Chinese): 中国北京市东城区交道口南锣鼓巷85号 东堂客栈
Postal Code: 100009
My selection of room was 8-Bed-Dorm which cost 80 Chinese Yuan Renminbi(CNY) per day.
It was located at the central of Beijing and 10 minutes walk to the nearest Subway called Nan Luo Gu Xiang (南锣鼓巷).
I highly recommend this hotel as it's located at Nan Luo Gu Xiang Alley. It's one of the famous and oldest hutong in Beijing. The staff were helpful too.
Upon checking in, I took a nap until lunch time. Luckily my room was available when I check-in at 9am. The check in time is noon.
After taking my lunch at the nearby restaurant, I walked around and visited Lama Temple and Confucius Temple. Both were located near to each other.
China Vlog: 雍和宫 Lama Temple (Beijing)
China – Beijing – Lama Temple
Confucius Temple, Beijing China
Beijing, Confucius Temple and Lama Temple
Day 3:
I visited The Forbidden City, Tiananmen Square and JingShan Park. All were near to each other too. 
The Forbidden City of Ming and Qing Dynasties
The Forbidden City was the Chinese imperial palace complex from the Ming Dynasty (1368–1644AD) to the end of the Qing Dynasty (1644–1912AD). It is located in the center of Beijing, China, and now houses the Palace Museum. For almost 500 years, it served as the home of emperors and their households, as well as the ceremonial and political center of Chinese government.
Built in 1406 to 1420, the complex consists of 980 buildings and covers 72 ha (180 acres). The palace complex exemplifies traditional Chinese palatial architecture, and has influenced cultural and architectural developments in East Asia and elsewhere. The Forbidden City was declared a World Heritage Site in 1987, and is listed by UNESCO as the largest collection of preserved ancient wooden structures in the world.
Forbidden City, Beijing, China in HD
The Forbidden City was the Chinese imperial palace of the Ming Dynasty and the Qing Dynasty (1420-1911, twenty-four emperors). It is also known as the Imperial City and the Palace Museum. UNESCO World Heritage Site.
JingShan Park
behind the forbidden city, Beijing
Jingshan Park in China
Jingshan Park is a public park covering 23 hectares (57 acres) immediately north of the Forbidden City in Beijing, China.[1] The focal point is the artificial hill Jingshan, literally "Prospect Hill".[3] Formerly a private imperial garden attached to the grounds of the Forbidden City, the grounds were opened to the public in 1928.[4] The park was formally established in 1949.[4] It is listed as a Key State Park and is administratively part of both Xicheng and the Dongcheng districts in downtown Beijing.
Beijing Travel Tips – Tiananmen Square
Tiananmen Square is the largest public square in the world and a major attraction in Beijing. It's also the place where you can actually see the body of Mao Zedong. However, make sure you follow my tip or you'll end up standing in line for nothing. (Lockers are available for rent on the East side across the street from the square.)
Sightseeing in Beijing: Tiananmen Square
Day 4:
I visited National Museum of China, Mao Zedong's Crystal Mausoleum and Wangfujing Street. 
National Museum of China
The National Museum of China flanks the eastern side of Tiananmen Square in Beijing, China.
The museum's mission is to educate about the arts and history of China.
Knowledge is key to a good nation building. Correct path to knowledge
National museum of China – Beijing China
The national museum of China is a beautiful and very big museum. This free museum (foreigners must show their passports for identification) is next to the Tiananmen square.
By subway: Tiananmen-east exit D
Mao Zedong's Crystal Mausoleum | China Uncensored
The perfectly preserved corpse of Chairman Mao Zedong lies within a crystal coffin in an ornate mausoleum in heart of Tiananmen Square. Even though Mao is responsible for the deaths of tens of millions of Chinese people, and led the country on disastrous campaigns of death and destruction like the Great Leap Forward and the Cultural Revolution, even today, tens of thousands come to pay their respects and see the Great Helmsman, the man that transformed China.
Chairman Mao Memorial Hall (Maozhuxi Jinian Tang)
Chairman Mao Memorial Hall (Mausoleum of Mao Zedong, Mao Mausoleum) is the resting place of Mao Zedong, Chairman of the Politburo of the Communist Party of China from 1943 and the chairman of the Central Committee of the Communist Party of China from 1945 until his death in 1976.
Chairman Mao Documentary – The Cultural Revolution – Destruction Of China
Chairman Mao (Mao Zedong or Mao Tse Tung) is the founder of the People's Republic of China in 1949 and one of the founders of the Chinese Communist party in 1921. He is recognized as one of the most prominent Communist theoreticians. He is also known as a great poet.
Mao Zedong was a very practical person before 1949. He did many thorough investigations about China and he developed his theories based on his studies. He was so successful in his early years that people worshipped him and everyone loved him.
Things changed after 1949. Mao was a great thinker, but he had no respect to any existing laws. Basically he was the law and he could not allow anybody else to chanllenge him. He challenged and destroyed the traditional Chinese culture, good and bad. He gave woman the same right as man, but destroyed the traditional value of woman. This also made him very unrealistic, as he said in a poem, "Ten thousand years is too long, seize the day." The Great Leap Forward (1958) is a direct result of such thinking.
During the Cultural Revolution (1966-76), everything took a very long pause except constant class struggle and population growth. Inflation was zero and salary freezed for everyone. Education was badly damaged. Mao developed his fighting (or struggling) philosophy in his late years, as he said, "Fighting with heaven, fighting with earth, and fighting with human being, what a great pleasure!" China was isolated from the rest of the world and nobody knew the outside world at all.
Mao Zedong:"If you're not going, I'll also not go,你们不走,我也不走"
Chairman Mao Zedong, shortly prior to its death, this time he wanted to watch everybody walk out instead of going first. Mao said: "If you are not going, I will also not go"…
毛泽东:"你们不走,我也不走" …
Mao Zedong is still very popular in China because he is considered the founder of New China and laid the first foundation, on which other late Chinese leaders could built with Deng Xiaoping in front.
All revolutions and turning points for countries in history have cost blood, as in the West, only China is pursuing it much later than most Western countries. Don't forget we did the same thing in the West, and often much worse.
I'm from the Netherlands and we for instance have a much more bloody history than China with slavery, oppression, colonisation and murder within and even outside our country. That period was the Dutch golden age and the fundament for our wealth today. We even admire and honor the people in charge during those times with statues and galleries, just like how the Chinese honor Mao.
In hard times with an economic embargo from the entire West unfortunately many Chinese died during the great famine. He also did make a few mistakes though, however during his time leading China he did a fair amount to help out the disadvantaged of China. Mao is therefore still most popular amongst the poor and workers.
From a Chinese perspective: Without Mao there would be no united China as we see today.
Beijing – Wangfujing Street
Food in Beijing – Wangfujing Snack Street
A little strange food for those who visit Beijing, an interesting option to spend an evening in Beijing. It gets really crowded during the night. On snack street the food ranges from dumplings, duck and fruit to snake, worms and scorpions.
Beijing Wangfujing Hawker Food Street
This Wangfujing Snack Street was taken from my family ..during holiday trip.
If you come along this food street,surely you love it ..
Wangfujing Snack Street in Beijing and around the famous snack blend of Court. It covers an area of over 2000 square meters, construction area of 1,000 square meters.
Wangfujing means"golden street"
Snack Street is located south of the friends in the world of shopping malls, there are shops in the street, over a hundred stalls, is a specialized in Beijing and around the flavor snacks , tourist souvenirs, folk arts and crafts market.
Day 5:
I visited Jinshanling Great Wall. This is a tour offered by my hotel.
The tour is called 6km (3.7miles) Great Wall Hiking tour-Jinshanling to Simatai West and cost 280 CNY per person.
Jinshanling Great Wall – China
Great past of the wall, not a lot of people and great scenery.
National Geographic – The Great Wall of China – Documentary
[Documentary] .The Great Wall of China is a series of fortifications made of stone, brick, tamped earth, wood, and other materials, generally built along an east-to-west line across the historical northern borders of China to protect the Chinese states and empires against the raids and invasions of the various nomadic groups of the Eurasian Steppe. [Documentary] .Several walls were being built as early as the 7th century bce; these, later joined together and made bigger and stronger, are now collectively referred to as the Great Wall. Especially famous is the wall built 220–206 bce by Qin Shi Huang, the first Emperor of China. Little of that wall remains. Since then, the Great Wall has on and off been rebuilt, maintained, and enhanced; the majority of the existing wall is from the Ming Dynasty. [Documentary] .
[Documentary] .Other purposes of the Great Wall have included border controls, allowing the imposition of duties on goods transported along the Silk Road, regulation or encouragement of trade and the control of immigration and emigration. [Documentary] . Furthermore, the defensive characteristics of the Great Wall were enhanced by the construction of watch towers, troop barracks, garrison stations, signaling capabilities through the means of smoke or fire, and the fact that the path of the Great Wall also served as a transportation corridor. [Documentary] .
[Documentary] .The Great Wall stretches from Dandong in the east, to Lop Lake in the west, along an arc that roughly delineates the southern edge of Inner Mongolia. [Documentary] . A comprehensive archaeological survey, using advanced technologies, has concluded that the Ming walls measure 8,850 km (5,500 mi). This is made up of 6,259 km (3,889 mi) sections of actual wall, 359 km (223 mi) of trenches and 2,232 km (1,387 mi) of natural defensive barriers such as hills and rivers. Another archaeological survey found that the entire wall with all of its branches measure out to be 21,196 km (13,171 mi). [Documentary] .
Jinshanling, The Great Wall of China!
Took a day trip to the Jinshanling Great Wall. 2 hours outside of Beijing, halfway restored with clear skies, it was an epic experience. Come to Jinshanling to enjoy a part of the wall with not many tourists and sights that can make anybody crack a smile!!
Day 6:
I visited Great Wall of China Badaling by public bus. So happen that  I'm the only tourist in the bus. The journey took about 70 minutes and very much depend on the traffic condition.
It cost me only CNY64 all in(Return by Public Bus from Beijing 24CNY + Entrance Ticket 40CNY). So can DIY on Budget
Tip: Go early around 7am and back to Beijing by 2pm to avoid the crowd.
My hotel is near to Houhai Lake which was about 10 minutes walk. I had my dinner near Houhai Lake. This area was very popular for  romantic couples and plenty of restaurants with live bands.
Great Wall of China Badaling
The Great Wall of China is a must-see and we saw it from Badaling. However – no one tells you that there is something YOU SHOULDN"T WEAR on your visit!
Plus, it's easy to get some great pictures despite the crowds…. IF you follow my tips.
Why was I frustrated travel to the Great Wall at Badaling? Because it took a long time for us to (1) Walk to the subway station (2) Transfer and get to our destination subway station where we then had to (3) get slightly lost trying to find the bus station before (4) finally finding the station and getting in line for what we hoped was the right bus and then (5) riding the bus to the Badaling Great Wall area after a girl beside us vomited because of motion sickness and then (6) walking for 15 minutes to get to the actual village/town at the base of the Wall and (7) finally finding the cable car to ride up to the wall so we didn't exhaust ourselves before ever getting to a good view point. However, it was still worth it!
Climb To Top of Great Wall of China-Badaling (WIth My Commentary + Historical Facts)
I climbed to the top of The Great Wall of China in Badaling with my guide, Sam. When seeing the magnificent Wall, most tourists are brought to Badaling (about 1 1/2 hours north of Beijing), which has one of the most well preserved and rebuilt sections in China. While most tourists don't climb all the way to the top, we climbed to the top (12 towers). It took us about 2 hours to go up and down. The Wall was originally built to keep out enemies. The original Great Wall is over 2,000 years old but little of that Wall remains in China. The Badaling section is anywhere from 50-500 years old.
Badaling Great Wall, Beijing, China
Houhai (Shichahai), Back Sea
Houhai Lake, also called Back Sea or Back Lake, is one of the two most popular pub streets in Beijing. It refers to a lake and its surrounding neighborhood in Xicheng District of central Beijing. Along with Qianhai (Front Sea) and Xihai (West Sea), they comprise Shichahai, the collective name for the three northern-most lakes in central Beijing.
Houhai Lake Area in Beijing
Houhai is a lake and its surrounding district in central Beijing, one of the three bodies of water composing the Shichahai. In recent years the area has become known for its nightlife as it is home to many popular restaurants, bars, and cafes. Houhai is situated near Bei Hai, and is surrounded by hutongs, but is not itself a hutong.
AFTERNOON WALK IN HOUHAI
Day 7:
I visited 798 Art Zone by public bus too.
Plenty of Nice Art Design in every corner and You won't get Bored!
It's very easy to go there But not near to Subway. So Just take the Public Bus no 401. Bus fare Cost RMB 2 one way from Beijing.
798 Art Zone: A Closer Look – TripAdvisor Beijing App Review
Since I have been to Beijing a few times I wanted somewhere off the beaten path that would give me a chance to take a look at a subculture living in broad daylight. 798 Art Zone is outside the 4th ring so the chances of you happening on this district are pretty remote.
Before I get into my experiences checking out contemporary art, architecture and culture in this historically interesting location let me go over the best apps for walking tours in Beijing.
TripAdvisor is our tried and true favorite, it's our go to when we land in any city and it's the app we feature in the video above. There is a city guide the ability to have offline maps with compass that will help you navigate offline is killer. You can also download walking tours as well as restaurant reviews. Though you'll learn in the video that 798 is so far out there weren't any reviews!!
798 Art District – Beijing
Explore Beijing: 798 Art District
798 Art District is perhaps the most famous art district in China. Once the site of factories during the Socialist Reunification Plan, 798 Art District is now home to modern art galleries, dainty boutiques and cute cafes. Graffiti can be found scribbled on walls and remnants of old factories are combined with modern art galleries to create a unique space, perfect for an afternoon stroll.
Day 8:
I visited Beijing Capital Museum and The famous Silk Market
Beijing Capital Museum
Beijing Capital Museum is one of the biggest and popular museums in Beijing. It equipped with advanced and complete facilities provide excellent service to the guests who come to the museum. Inside the museum, there exhibits lot of ancient historical things and describe interesting culture of China. Visit Beijing Capital Museum and you will know rich culture and long history of China.
Beijing Capital Museum (首都博物馆), Part I
Beijing Capital Museum (首都博物馆), Part II
Beijing Capital Museum (首都博物馆), Part III
BEIJING BLURB: The famous Silk Market
Bargaining Skill at Silk Market in Beijing-Beijing Travel Tips
This video will teach you how to bargain with shop vendors at silk market in Beijing. Buying without bargain will make you lose a lot of money, it's a tip to teach you to shop at silk market
Shop 'Til You Drop in The Silk Market, Beijing
Silly me always thought the Silk Market only sold silk, duh, but I am a fast learner. Also referred to as Xiu Shui (Silk Street) Market, the old outdoor market was replaced by this upscale shopping mall with seven floors of mostly counterfeit goods; only five floors will really be of shopping interest. Over 1,700 retail vendors offer a wide selection of: silks, jeans, trousers, scarves, jackets, shirts, watches, bedding covers, carpets, electronic gadgets, trinkets, and fine jewelry. The Silk Market was the last important market we visited and the most upscale.
Located at No. 8 Xiushui East Street and open from 9:30a-7:00p, the Silk Market is easily reached by subway. We entered the subway at Tiananmen Square East, took Subway Line 1 to Yongan Li (three stops), and the platform steps led right into the lower level basement! How easy is that!
Day 9:
I visited Panjiayuan Antique Market
The Always Fascinating Panjiayuan Flea Dirt Market in Beijing
If it is a Saturday or Sunday and we are in Beijing, it is off to my favorite Panjiayuan Flea Market, locally called the "Dirt Market." Why "Dirt Market"? I have no idea.
This fabulous market operates seven days a week but it is on weekends that locals come to sell whatever they have brought with outside the perimeter building. Saturday and Sunday are the days to visit this market that has approximately 3,000 registered stalls (that doesn't include people sitting on pavement) and up to 50,000 people on a busy day.
This "not just-for-tourist" flea market is one of the World's best markets. Don't miss it!
Subway directions from Days Inn Forbidden City: Line 1 to Guomao, transfer to Line 10 and ride to the end of the line, Jinsong. Walk south down Jinsong until you come to Panjiayuan Lu, turn right and follow the crowds.
Panjiayuan Antique Market
Founded in 1992, the Beijing Panjiayuan Flea Market, also called Ghost Market, is the largest, cheapest and most popular antique market in Asia. With a space of 5 hectares and over 4,000 stalls, the market mainly deals in antiques, arts, handicrafts as well as second hand goods. Also, there are many other types of goods in the market like a museum. It is a heaven for buying and appreciating antiques, traditional Chinese handicrafts, collectibles and decorations. Visitors could find calligraphy, Chinese painting, writing brushes, ivory carving, traditional Chinese musical instruments, porcelain, ancient furniture, cartoon books etc. There are also some peddlers from ethnic minorities like Hui, Mongol, Miao, Korean and Manchu, hawking their national handicrafts in the market. Actually, Panjiayuan Flea Market is becoming one of the must-go attractions in Beijing for visitors from home or aboard.
Panjiayuan antique Market – Beijing China
Located at the southeast corner of the 3rd Ring Road in Beijing, covering an area of 48,500 square meters, Panjiayuan Flea Market is the largest, most complete, cheapest and most popular market selling second hand goods and curios in China. There are so many types of goods in the market that it is like a museum.
Beijing is so huge and I've not cover much during my first visit.
My priority is to cover main tour attraction that don't have any Entrance Fee whenever possible.
I spend not more than RM2,000 for this trip all in inclusive of return ticket.
Maybe my next trip will include Summer Palace, The Temple of Heaven, Beihai Park, The Beijing National Aquatics Center etc