One of the most important gadget that some traveller got to have is Travel /Outdoor Bidet.
If you visited countries like Hong Kong, Vietnam, Singapore, China etc, it's very difficult(almost none) to find bidet available at their public toilets.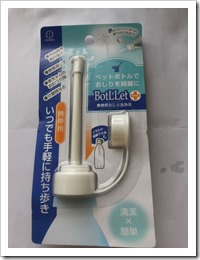 Therefore, it's good to bring your personal travel Bidet as it allows everyone to be fresh and clean anytime and in anywhere!
All that we ask for are Clean and hygienic in. You find yourself in a difficult situation where the toilet paper is running out especially in the public toilet where this is very common.
One of the model I found here is called BotLLet Portable.
It's sold in Japan and cost around RM40. This bidet fit need to be fitted on a separate bottle.
I use the 500ml mineral water bottle. It has an adjustable neck for easy storage. When you squeeze the bottle, it'll generates a stream of water for cleansing the required  private areas.
There is no complicated installation or batteries, required.
With this, you won't facing anymore big issue when a public toilet has no attached bidet.
It's also environmental friendly as less toilet paper to be consumed.
P/S: Do contact me if you wish to order BotLLet Portable(USD$15 each & minimum order is 10 units & subject to stock availability & price changes)