The controversial and long-awaited new low-cost carrier terminal, Kuala Lumpur International Airport 2 (klia2) is finally is ready to start it operations on May 2.
klia2 is situated about 1.5km from the main terminal of Kuala Lumpur International Airport(KLIA) and expected to serve approximately 25,000 passengers daily.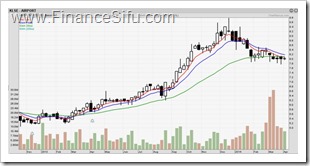 AirAsia executive chairman. Datuk Kamarudin Meranun and AirAsia X Bhd chairman, Tan Sri Rafidah Aziz, in a joint statement have announced that AirAsia will move to KLIA2 by May 9.
For the start, only five airlines i.e Malindo Air, Cebu Pacific Air, Tiger Airways Singapore, Lion Air and Indonesia's Mandala Airlines will begin operations on 2nd May 2014 and AirAsia will join in on May 9. On May 9, the existing LCCT will be stop operating.
Malaysia Airports Holdings Bhd(MAHB) was the airport operator.
MAHB was listed in Bursa Malaysia. If you wish to enjoy a slice of the airport profit, do consider to invest this company.
The stock price was in downtrend due to delay on the airport opening.
ERL to KLIA2 to commence on May 2
The Express Rail Link from KL Sentral to KLIA2 will commence operations when the airport terminal opens to the public on May 2.
KLIA2 ready for take off
Malaysian Airport's Senior General Manager Dato' Azmi Murad provides a glimpse inside KLIA2 termina,l which is set to begin operations on May 2nd.
klia2 Visualisation
Gateway @ klia2
klia2 is the new Next Generation Hub, a low-cost carrier terminal set to serve 45 million airport users. With the airport's innovative new offerings and state-of-the-art facilities, passengers and visitors will enjoy a fresh shopping, dining and services experience.
Malaysia Airports Holdings Berhad Corporate Video
After doubled cost & 2-year delay, KLIA2 '98% complete'
Acting Transport Minister Hishammuddin Hussein has declared KLIA2 '98 percent complete' after touring the facility dubbed the world's largest purpose-built airport for low-cost carriers.