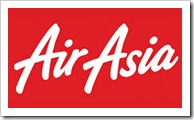 I just flown back from Cebu City, the oldest city in the Philippines via AirAsia. We only spend a short five days trip at the Cebu City due upcoming Chinese New Year holiday
I took advantage of the AirAsia Free Seats Promotion for my international travel trip.
The Free Seats Promotion is not a gimmick as I managed to grab & enjoy it.
Let thanks to this great man, Tan Sri Dr. Tony Fernandes, the founder of Tune Air Sdn. Bhd., who introduced the first budget no-frills airline, AirAsia, to Malaysians with the tagline "Now everyone can fly".
Yes I totally agreed with the motto…"Now everyone can fly"!
Without AirAsia, most of us would probably spend a bomb on the flight tickets alone. So far about 98% of my overseas travel was with AirAsia.
You must be very fast to grab the Free Seats once once it was announced as the seat availability is very limited.
My booking was done on two months before the travel date i.e booked on 14 November 2013 & travel on 22nd January 2014.
AirAsia Free Seats don't means you don't pay anything. You still have to pay the fuel surcharges and airport taxes.
It cost me only RM146(inclusive of Pak Nasser's Nasi Lemak @ AirAsia In-Flight Meals) to buy the return flight to Cebu from the Low-Cost Carrier Terminal (LCCT).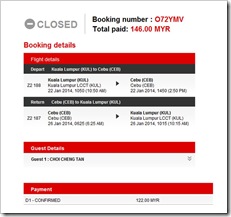 Thank you AirAsia! :-)
The Terms and Conditions for AirAsia Free Seats Promotion:
• A non-refundable processing fee is applicable for payments via credit, debit or charge card.
• Fare includes fuel surcharges and airport taxes (except for selected airports where airport tax is collected at the point of departure).
• Seats are limited and may not be available on all flights • Valid for new purchases only
• All fares are quoted for single journey (one-way) only
• All taxes must be paid at the time of purchase unless otherwise stated
• Foreign fares are subjected to currency exchange rates
• Offer is subject to availability and AirAsia's Terms and Conditions of Carriage
• No refunds are permitted after payment has been made
• Guests travelling need to provide all necessary travel documents (eg valid passport, visa where applicable etc) at the time of departure
• AirAsia reserves the right to deny guests from boarding without proper documentation • Full payment shall be made upon booking
• Changes to flights and dates are permitted subject to change fees
• Changes to name are not permitted
• Only available for online bookings at www.airasia.com
.
Cebu City Tour, Magellan's Cross, and Balut