I got many questions asking about my Hong Kong and Macau 6D5N Travel Itinerary after posting Budget Travel to Hong Kong and Macau 
Anyway, Hong Kong is NOT a cheap country to travel to as the hotel and food cost is on the higher side.
This is due to high cost of living in Hong Kong and our weak RM currency.
My flight fare and hostel alone already is above RM1,000 for 6D5N travelling period.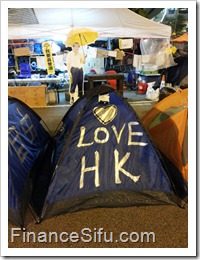 Since I am travelling in solo, it has gave me a lot of flexibility as I can do(visit) whichever I want with no fixed time schedule.
This is a budget trip so the main transportation will  be on public transport and a lot of walking!
Day 1 – Tuesday (18 November 2014)
klia2 > Hong Kong International Airport > Took  Airport Bus >  Check in Hostel > Tsim Sha Tsui area >  The Peak > Avenue of Stars to watch the Symphony of Lights > Hostel
Tip 1:
Since almost everything is expensive, it's good to bring an empty drinking bottle. You can fill it up before leaving Hong Kong International Airport.
There are plenty of water station leading to the arrival hall.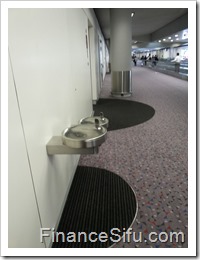 Tip 2:
I bought my ticket for the Peak Tram  and Ngong Ping 360 cable car at CTS(China Travel Services) located on the left end(immediately after you exit from Immigration)  of the arrival hall.
It's cheaper by a bit only compare buying at the entrance.
This is recommended as the queue to buy the ticket at the entrance is normally very long. The ticket validity is for few months.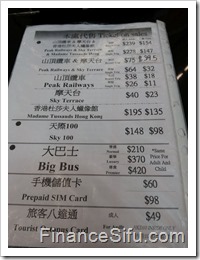 Tip 3:
I took the Mass Transit Railway(MTR) for most of my travel as my hostel is next to MTR Tsim Sha Tsui Station.
Therefore I won't get lost. If I ever get lost, I just need to get to the nearest MTR station

Do get a copy of the MTR map. This alone will save you a lot of time.
Amazing View Hong Kong Skyline From Victoria Peak Night Beautiful
Tip 4:
There are many restaurant at The Peak however the menu price list is not cheap. Luckily there is a McDonald outlet available.
This is one of the cheapest alternative available!
Tip 5:
The best time to visit The Peak is around dinner time. You can watch the day view and the night view at one visit.
There's no time limit on how long you can stay up there. So takes your times to see the whole Hong Kong from the highest point.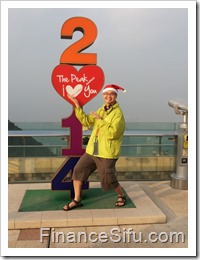 Tip 6:
Do get your Hong Kong Octopus Card by paying HK$150(inclusive of HK$50 refundable deposit) at the MTR counter(immediately after you exit the Immigration).
It's just like our Touch n' Go Card and can be use on most forms of public transport ( Bus, Minibus, Ferry, Peak Tram, Tram & MTR Trains) and at all major convenience stores, such as Seven Eleven, fast food restaurants, Starbucks, supermarkets, bakeries, self-service vendor machines.
Buses in Hong Kong are self-service ticketing and and exact change is required if paying by cash. Therefore, No change will be given and the use of Octopus card is highly recommended. Octopus cards are accepted on all buses in Hong Kong.
I can just go(walk) to  Avenue of Stars anytime as it's just about 5-10 minutes walk from my hostel.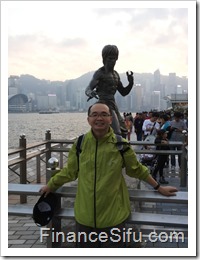 My hostel is called Urban Pack and the address is Unit 1410, 53-55 Haiphong Road, Haiphong Mansion, Tsim Sha Tsui, Hong Kong.
I'm  staying in a  "Single Bed in 8-Bed Dormitory Room" which cost me RM100 per day. The rate will change depend on the season.
*** Key in and  search  for Urban Pack Hostel Hong Kong at the Agoda booking website.
The hostel have a choice of room type:
Single Room
1 Bed in 2-Bed Mixed Dormitory
1 Bed in 4-Bed Mixed Dormitory
1 Bed in 8-Bed Mixed Dormitory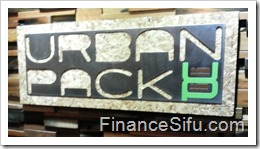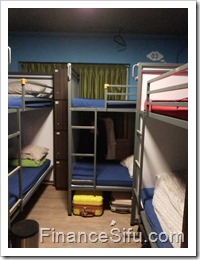 The airport bus from Hong Kong International Airport to my hostel cost only HK$33.
Look for Bus A21 if you are going to Tsim Sha Tsui area. Off course I use my Octopus Card as I don't have any small changes in HK$.
Tip 7:
Our RM currency is very accepted by the money changer in Tsim Sha Tsui area.
So no need to change a lot of HKD$ before coming over. The rate for 18 November 2014 was HKD$2.28=RM1.
Day 2 – Wednesday (19 November 2014)
Hostel > Avenue of Stars >  香港太空館 Hong Kong Space Museum > Hong Kong Museum of Art > Took Ferry to Central > Dr Sun Yat-sen Museum > Central Mid-Levels Escalator Link > Took Ferry to Tsim Sha Tsui  > Clock Tower > Hostel > Happy Valley Racecourse > Took a Tram > Hostel
Tip 8:
Today was Wednesday. So take advantage to visit all the museums as there were no entrance fee.
It's FREE entry!
Central-Mid Level Escalators, Hong Kong-World's Longest Escalator
The Central Mid-Levels Escalator Link will lead you to place nearby The Peak.
It won't reached The Peak. You got to takes Taxi or bus to reached The Peak.
The Escalator will go up to the hill and it's only one way. Therefore, you got to walk down to places where you start.
The Central Mid-Levels Escalator Link ride was awesome. Along the way there were plenty of shops and bars around.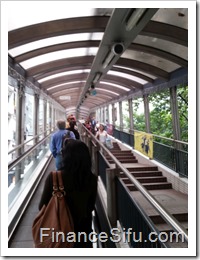 You won't get lost in Hong Kong.
Such a small and packed city!
There were many signboard around with English wording especially along on the  main Tourist attractions.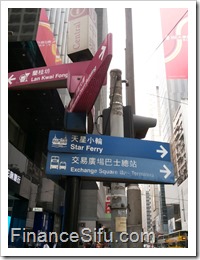 Day 3 – Thursday (20 November 2014)
Hostel > Hong Kong China Ferry Terminal > Hotel Lisboa in Macau > Macau Senado Square > Ruins of Saint Paul >  Venetian Macao 澳門威尼斯人 > Hostel
My trip to Macau was on a day trip.
The Day return ferry ticket cost me HKD$360.
A day trip to Macau is so "Rush" and Cannot cover much. Therefore it's  advisable to at least stay a night there.
COTAIJet™ Austal 47.5M Catamaran "GOURMET DINING" Arriving Hong Kong-Macau Ferry Terminal
I Never spend any money on Casino but use their Free bus service.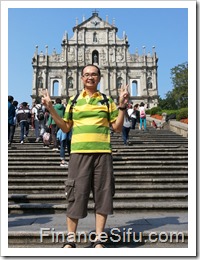 Tip 9:
There are plenty of FREE casino shuttle bus service at the airport and the ferry terminal.
Do make sure of this facilities. The bus will took you to their casino.
Once you reached the casino, you are free to go anywhere! Senado Square is just about 5 minutes walk from Hotel Lisboa. The casino is located inside the Hotel Lisboa.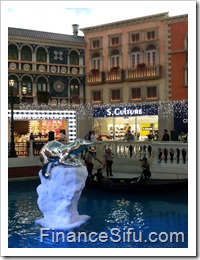 Tip 10:
You don't have to change any Macau local currency, Macau Pataca(MOP). HKD$ is well accepted and the rate is HKD$1= 1 MOP.
When paying for my lunch using HKD$, I request the balance money to be refund in HKD$ too.
Else I don't know what to do with the MOP currency.
Things to do in Macau, China including visiting Senado Square & the Ruins of Saint Paul's Cathedral
Day 4 – Friday (21 November 2014)
Hostel > Ngong Ping Cable Car > The Big Buddha and Po Lin Monastery > Citygate Outlets > Hostel
Tip 11:
Always get the return ticket in advance and never purchased it at the entrance counter. Even it's not a weekend, the queue can be very long. There are a lot of China mainland tourist around all over Hong Kong.
Do takes your time to shop at Citygate Outlets as it has over 80 international brand names offering 30% to 70% year-round discounts under one roof. You won't find the same item else where.
I visited a Giardano outlet and like the Jacket there as the price is attractive. However I didn't bought it because of thinking getting it at the same outlet near my hostel(Tsim Sha Tsui ). Unfortunely, the same item can't be found else where.
KK香港自由行-「大嶼山東薈城名店倉 Citygate Outlet、昂坪360纜車、天壇大佛亅轉一圈,S1公車來回東涌港鐵站及機場
The Big Buddha is located on top of a hill. So it has a short hike up to reach there. Do make sure you are  physically fit to climbing up.
I missed the Tai O village as time is running out and to avoid the long queue going down using the cable car.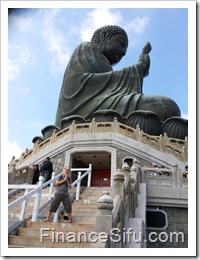 The MRT return fare from Tsim Sha Tsui  to Ngong Ping Cable Car cost HK$36.
If you pay the MRT fare using Octopus Card, you will get a slight discount on the fare.
Big Buddha Hong Kong (Tian Tan Buddha)
A day trip to the Big Buddha. It starts at the Tung Chung Bay. Continue to Tung Chung. With the Ngong Ping 360 cable car to Ngong Ping village and continue on foot to the Big Buddha. (Tung Chung Bay, Ngong Ping 360 cable car, Ngong Ping village, Tian Tan Buddha)
Day 5 – Saturday (22 November 2014)
Hostel > Nan Lian Garden > Sik Sik Yuen Wong Tai Sin Temple > Hostel > Took Ferry to Central > Walk to Admiralty Station (MTR) >  Hong Kong's 'Umbrella Square' > Took Ferry to Tsim Sha Tsui  >  Hostel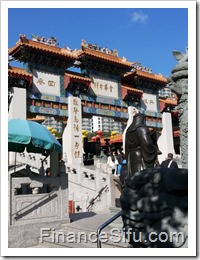 Wong Tai Sin Temple 黄大仙祠
The Wong Tai Sin Temple is located on the southern side of Lion Rock in the north of Kowloon. The temple is and has a very nice garden.
Tip 12:
Taking MTR train is NOT an economical to travel around. There are better and cheaper ways such as taking Ferry, Tram, Bus etc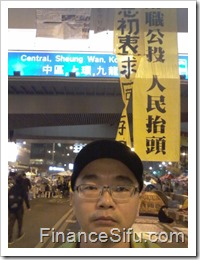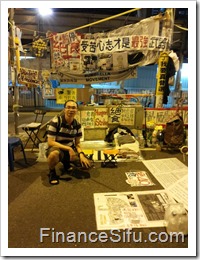 Occupy Central 'Umbrella Square' : I experience a taste of Freedom to speak freely — at 海富中心 Admiralty Centre.
Occupy Hong Kong: Exclusive Raw Footage
Student protests in Hong Kong are running on for a third consecutive night. This exclusive raw footage shows student protesters tear-gassed by Hong Kong police, and includes exclusive images of arrested protest leader Joshua Wong detained by police in a Hong Kong ambulance
Hong Kong Protest 2014: The Evolution of Joshua Wong | The New York Times
Only 17, Joshua Wong cannot vote, but he is at the forefront of a student movement for democracy in Hong Kong.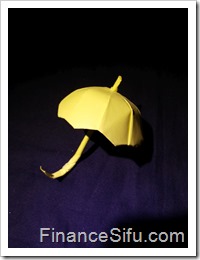 A Souvenir given by the Umbrella protester
Top Hong Kong Anti-occupy Central Song / 反佔中心聲/支持警方,維護法治
During my stay, I took all my 3 meals a day(Breakfast, Lunch and Dinner) at the fast food restaurant. This include Cafe De Coral, McDonald, Yoshinoya etc.
The price range from HK$25.50 to  HK$60.00. For a budget of HK$60.00, you can have a very  good meal.
You will be fine to budget minimum RM15 for meal here.
Even a small bread here cost around RM4.
Day 6 – Sunday (23 November 2014)
Hostel > Avenue of Stars > Hong Kong International Airport > klia2
I took the same airport bus(Bus A21) to get to the airport.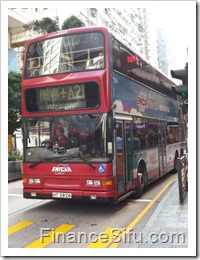 Bus A21 (Tsim Sha Tsui Stop) to Mirador Mansion
You can take bus A21 from the Hong Kong International Airport and stop at Tsim Sha Tsui. Then walks towards the harbour side and will find Mirador Mansion on your left hand side. (USA Hostel Hong Kong reception is on the 13th floor)
Tip 13:
If you took AirAsia flight, do get down at the Terminal 2.
Tip 14:
Try to reached to the airport early(at least 3 hours before departure) to get back your Octopus Card deposit and balance. You may visit the train ticketing counter for refund.
I achieved my goal to travel on budget in Hong Kong.
It only cost less than RM1,800.00 for 6D5N in Hong Kong includes return flight, 3 meals per day(All were eating outside), cover Top Tourists attractions plus day trip to Macau, hostel & etc.
I still got many HKD$ notes left

The month of November is one of  the Best time to travel here.
The Temperature was  from 18 to maximum 25 Celsius and with plenty of Sunshine.
I just need to wear a light jacket and   even wearing a short throughout my journey.
For this trip, I didn't cover much of the tourist areas like Mongkok Night Market, Flower Market Road etc, as this is a free and easy trip.
I believe travelling must be Fun and relaxing!
Unlike taking a tour from the travel agent where the morning call can be as early as 6am & rush to a lot of places in a short time.
Maybe my next trip to Hong Kong is to visit Ocean Park Hong Kong and Disneyland Hong Kong!
Travel Geek: Hong Kong & Macau
Travel channel – Hong kong
Hongkong Travel Video Guide