Japan is a Wonderful country to visit in Asia!
It's a Clean, Systematic and their people are very polite.
They have one of the world best train transportation system which include Japan's high speed bullet trains, also known as Shinkansen trains.
According to the Japan National Tourism Organization, there're  2.37 million visitors arrived during the month November 2017 alone!
The total tourists visitors in the year 2016 was 24 million. This year they expected the figure to be increased to  28.5 million people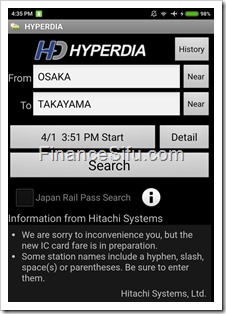 Two of the most popular season to travel to Japan are during Spring and Autumn.
November is a popular month for autumn viewing as most of the the leaves of Japan's forests turn into red and gold color.
Where as April is a popular month for Spring viewing for Cherry Blossom. The entire nation turns into a shade of Pink!
However the month above can vary as Japan has 47 different prefectures!
It's a good idea to record and watch time lapse video on the changing of the blossoming trees.
One of the best way to travel around Japan is by using their Train system. It's Efficient, Fast and Clean.
In order to encourage the Tourism industry, the Japan Railways Group(JR Group) introduce a JR Pass which is a Discount Train ticket.
Using  JR Pass is the most economical means of travelling throughout Japan by rail.
This pass is NOT available to the local people and only Tourist able to purchase it!
So do take Advantage of the JR Pass.
Using Hyperdia  to plan your Japan Trip
Confused about how to get around in Japan? We explain how to use Hyperdia.com to plan your journey, work out costs and save money with a Japan Rail Pass.
They are many type of the passes. Do check with your friendly travel agent for more information!

One of The Best Train Travel Apps in Japan is called  Hyperdia.
You can download it at the Play Store and it's FREE!
Assuming you wish to go to Takayama from Osaka, just key in the both locations and press the button search.
It'll show the Traveling time, number of train change, distance, fare and train timing. You can decide which is the best route.
Therefore you no need to look at the Complicated Timetable shown in the station and able to plan your Journey in advance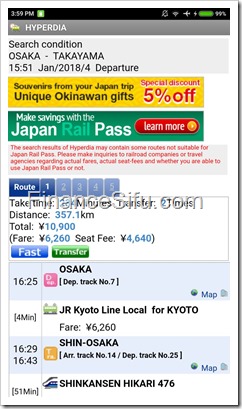 The Japan Rail Pass – Should You Buy One?
10 MOST ASKED QUESTIONS ABOUT THE JAPAN RAIL PASS