The current stock market is very volatile.
On one day, the FTSE Bursa Malaysia KL Composite Index (FBM KLCI) can go down 23 points and the next day will bump Up to 27 points.
Trading seem to be tough and are not for the faint or heart, or even the average retail investor.
However not all stocks will goes Down in a Bearish market.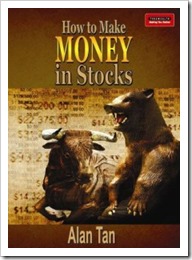 It good to takes this opportunity to equip with some Investing and Trading Stock Market knowledge.
Just like before going to the war, the soldiers will trained hard in the training ground. So takes this take to learn more about Stock Market to takes advantage of the market when it turn Bullish.
The good news is my publisher, True Wealth, is currently running a promotion under "Books of the Week" on my stock market book called How to Make Money in Stocks.
The normal price which was sold at the book stores was RM39.90. However for this week only they are offering 30% Discount Off and You will  save RM11.97.
For your investment of  RM27.93, you will learn how to be a savvy investor and make the stock market work for you!
This offer is Limited to this week only!
For more information on the book, Click this LINK