Now you can seek a treatment at Klinik 1Malaysia for only RM1!
Yes…That is less than the cost of The Tarik.
The cost is low because it was fully subsidize by Malaysia's government.
More people will visit Klinik 1Malaysia for minor illness like cold, fever, cough, flu, etc due to expensive private healthcare and   high cost of living today.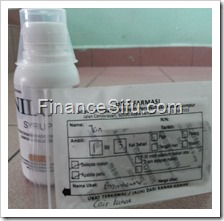 The cost RM1 is inclusive of consultation and medicine. It's cheaper than getting your own medicines at your favorite pharmacy.
This is one of the afford by the Government to reduce high cost of inflation. So do takes note of this health facilities available near your place.
Klinik 1Malaysia (English Version) – GTP Government Transformation Programme
PM lancar Klinik 1Malaysia
Perdana Menteri, Datuk Seri Najib Tun Razak hari ini melancarkan Klinik 1Malaysia di Lembah Pantai yang menawarkan khidmat rawatan dengan bayaran RM1.
Katanya, serentak dengan pelancaran itu, 44 buah lagi klinik seumpamanya beroperasi di seluruh negara.
Beliau memberi jaminan kewujudan klinik 1Malaysia tidak akan menjejaskan klinik swasta. Katanya, Klinik 1Malaysia hanya menawarkan perkhidmatan rawatan sakit ringan dan bagi kes yang serius ia tetap dirujuk pada klinik swasta
Klinik 1Malaysia