Direct Business Transaction
Direct Business Transaction (DBT) encompasses any trades transacted outside Bursa Malaysia's  Automated Trading System(ATS) but reported in ATS.
Such transactions include:
1) Crossing Trade = Transaction between two Participating Organizations.
It is a Direct Business transaction in securities between two clients of different Participating Organizations.
2) Married Trade = Transaction between two clients within a
Participating Organization.

In another word the Participating Organization acts on behalf of both the buying and selling clients
The following is the Real life example showing how a Crossing Trade was done.
On 08 Oct 2014, Nestle reported that there was a "Changes in Sub. S-hldr's Int. (29B) – Employees Provident Fund Board"  in Bursa LINK.
This Crossing Trade was done by Employees Provident Fund Board on 02 Oct 2014 involving 150,000 unit of Nestle.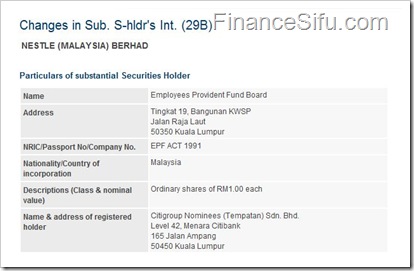 Announcement made to Bursa on 08 Oct 2014 by Nestle

The actual trade done on 02 Oct 2014