AirAsia Free Seats promotion is currently running and there are up to three million promotional seats to be grab.
You may book from June 5 to June 11 for travel between Jan 15 and Aug 28, 2018.
I managed to grab a free seat return flight ticket from klia2 to Kota Bharu for only RM26.50!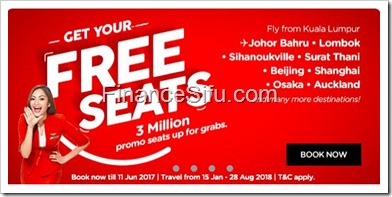 It's cheaper than one way bus fare to Kota Bharu!
One way bus ticket to to Kota Bharu which took about 9 hours journey cost around RM48.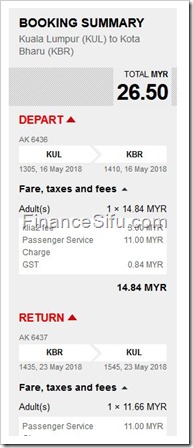 In comparison, it took only around 1 hour when taking a flight.
So much time and  cost saving.
I plan to visit Siti Khadijah Market and  Perhentian Island aka Maldives of Malaysia!
The bad thing is you got to book in advance i.e above 6 month ahead.
Should you unable to fly due to whatever reasons, no refund will be entertain!
Domestic flight is not entitle to Airport Tax refund unlike the International sector.
I think this not right and is one type of discrimination
Personally, I noticed this round of AirAsia Free Seats promotion was not attractive as not much discounts were given.
Domestic
Domestic
Fare

 

Alor Setar
15
Johor Bahru
15
Kota Bharu
15
Penang
15
Kuala Terengganu
15
Langkawi
39
Miri
69
Bintulu
79
Kuching
79
Sibu
79
Labuan
89
Kota Kinabalu
99
Sandakan
129
Tawau
129
Domestic
Fare

 

Alor Setar
15
Bintulu
79
Johor Bahru
15
Kota Bharu
15
Kota Kinabalu
99
Kuala Terengganu
15
Kuching
79
Labuan
89
Langkawi
39
Miri
69
Penang
15
Sandakan
129
Sibu
79
Tawau
129
International
International

 

Fare

 

Jakarta
40
Medan – Kualanamu
40
Pekanbaru
40
Phnom Penh
40
Ho Chi Minh City
40
Singapore
40
Krabi
46
Surat Thani
46
Hat Yai
49
Yangon
53
Siem Reap
69
Banda Aceh
79
Phuket
79
Luang Prabang
79
Padang
79
Palembang
79
Sihanoukville
89
Pattaya – U-Tapao
89
Bandung
99
Brunei
99
Bangkok – Don Mueang
99
Bali
109
Da Nang
119
Hanoi
119
Pontianak
119
Chiang Mai
129
Yogyakarta
129
Lombok
129
Solo
129
Vientiane
139
Semarang
149
Surabaya
149
Bhubaneswar
179
Kochi
179
Tiruchirappalli
179
Makassar
179
Visakhapatnam
179
Hong Kong
189
Nanning
189
Colombo
199
Hyderabad
199
Kalibo
199
Kunming
199
Chennai
199
Macao
199
Manila
199
Shantou
199
Chongqing
199
Perth
199
Guangzhou
219
Kaohsiung
219
Kolkata
229
Shenzhen
229
Chengdu
229
Hangzhou
229
Beijing
229
Shanghai
229
Taipei – Taoyuan
229
Xi'an
229
Wuhan
229
Guilin
239
Cebu
249
Bengaluru
269
Changsha
269
Mumbai
299
New Delhi
299
Gold Coast
299
Sydney
299
Osaka – Kansai
329
Melbourne
329
Busan
329
Male
359
Tokyo – Haneda
359
Seoul
359
Sapporo – Shin-Chitose
379
Dhaka
399
Tehran
399
Wuhan
431
Auckland
499
Honolulu
799
International

 

Fare

 

Auckland
499
Bali
109
Banda Aceh
79
Bandung
99
Bangkok – Don Mueang
99
Beijing
229
Bengaluru
269
Bhubaneswar
179
Brunei
99
Busan
329
Cebu
249
Changsha
269
Chengdu
229
Chennai
199
Chiang Mai
129
Chongqing
199
Colombo
199
Da Nang
119
Dhaka
399
Gold Coast
299
Guangzhou
219
Guilin
239
Hangzhou
229
Hanoi
119
Hat Yai
49
Ho Chi Minh City
40
Hong Kong
189
Honolulu
799
Hyderabad
199
Jakarta
40
Kalibo
199
Kaohsiung
219
Kochi
179
Kolkata
229
Krabi
46
Kunming
199
Lombok
129
Luang Prabang
79
Macao
199
Makassar
179
Male
359
Manila
199
Medan – Kualanamu
40
Melbourne
329
Mumbai
299
Nanning
189
New Delhi
299
Osaka – Kansai
329
Padang
79
Palembang
79
Pattaya – U-Tapao
89
Pekanbaru
40
Perth
199
Phnom Penh
40
Phuket
79
Pontianak
119
Sapporo – Shin-Chitose
379
Semarang
149
Seoul
359
Shanghai
229
Shantou
199
Shenzhen
229
Siem Reap
69
Sihanoukville
89
Singapore
40
Solo
129
Surabaya
149
Surat Thani
46
Sydney
299
Taipei – Taoyuan
229
Tehran
399
Tiruchirappalli
179
Tokyo – Haneda
359
Vientiane
139
Visakhapatnam
179
Wuhan
229
Wuhan
431
Xi'an
229
Yangon
53
Yogyakarta
129
Kota Bharu – Tourist Attractions in Malaysia
Kota Bharu (Jawi: كوت بهارو; occasionally referred to as Kota Baharu) is a city in Malaysia that serves as the state capital and royal seat of Kelantan. It is also the name of the territory (jajahan) in which Kota Bharu City is situated. The name means 'new city' or 'new castle/fort' in Malay. Kota Bharu is situated in the northeastern part of Peninsular Malaysia, and lies near the mouth of the Kelantan River at 6°8′N 102°15′E. The northeastern Malaysian city is close to the Thai border.
Kota Bharu is home to many mosques, various museums, the unique architecture of the old royal palaces (still occupied by the sultan and sultanah and off-limits to visitors but viewable from outside) and former royal buildings (which can be visited) in the center of town.
The City is served by Keretapi Tanah Melayu's East Coast Line at the nearby Wakaf Bharu Terminal Station, in the town of Wakaf Bharu across the Kelantan River to Stesen Railway Station and Sultan Ismail Petra Airport, located in Pengkalan Chepa.
(Big) public market – Pasar Siti Khadijah,kota bharu,kelantan
Kota Bahru (overview)
The capital of Kelantan province, Kota Bahru is in the far north-east corner of the peninsula. Although large, KB is easy to get around, boasts a delightful riverside setting and offers several worthwhile attractions
Perhentian Islands | MALAYSIA, Terengganu | Let's Travel #9
Places in this video:
– Plain to Kota Bharu.
– Car to Kuala Besut.
– Boat to Perhentian Islands
– Resort: Bubbles (Pulau Perhentian Besar)
We stayed one week at this amazing place. It was by far one of our favourite places.
The resort was incredible! Almost no people! Amazing beach with warm transparent water. A lot of different animals (monkeys jumping around on the top of the trees, big lizards, baby sharks, etc.)
Perhentian Islands Vacation Travel Guide | Expedia 
A visit to the Perhentian Islands is taking a step into a rare, exotic paradise, and the perfect place to reconnect with nature—and your own self.
Your Perhentian Islands tour begins on the northern coast of Peninsular Malaysia, where the two islands are located. These islands are ringed in pristine white beaches, and there are no roads to get from one place to another; should you wish to visit different parts of the islands, you can take pathways through jungles teeming with wildlife, or hire water taxis to shuttle you from one village to the next.
The Perhentian Islands are part of the Perhentian Marine Park, which is home to some of the best diving in the world. Because the park is a nationally protected area, activities like water skiing, jet skiing, and fishing are prohibited in the immediate area. These quiet, clear waters are the perfect place for you to snorkel your way through gorgeous coral reefs and photograph some of the local sea life.
Once you're out of the water, your Perhentian Islands sightseeing will reveal a simple, relaxing lifestyle waiting for you. A number of accommodations are located right on the beach, so you can walk from the water into your rental. Stretch out on the sand with family and friends, or go for a hike in the jungle. Just remember to get back to the shoreline in time to watch the sun go down: it's one of the most striking scenes you'll ever see.
BDAY TRIP TO PERHENTIAN ISLAND!
Maldives of Malaysia: Perhentian Islands