AirAsia Free Seats promotion is back today!
This is a quarterly  sales event and  offer up to 5 million promotional seats to be grab.
For all in as low as RM15(including taxes and fees), you can fly locally to places like Alor Setar, Johor Bahru, Kota Bharu, Kuantan, Langkawi, Penang, Kuala Terengganu and  Miri.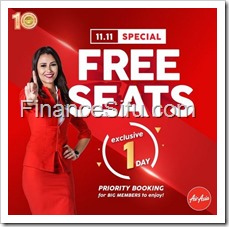 The best deal for local destination is Miri.
You won't find RM15 one way flight ticket when the flying time is 2 hours and 20 minutes. However the seat availability  is pretty limited and return ticket may be expensive.
By paying RM39(including taxes and fees),  you can fly to Asean destinations like Brunei, Phnom Penh, Padang, Jakarta, Surabaya and Ho Chi Minh City.
The booking start on Monday(12 November 2018) until  18 November 2018 for travel between 6 May 2019 and 4 February 2020.
Hidden Gems in Padang, Indonesia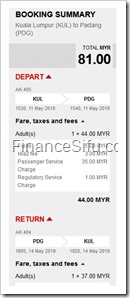 You can get a return ticket from klia2 to Padang for RM81!
Now you know Why it's possible and cheaper to travel  oversea than traveling locally, if you plan properly.
For As low as Rm199(including taxes and fees),  you can fly to AirAsia X destination like  Amritsar, Xi'an, Chongqing, Melbourne, Taipei, Seoul and Osaka.
Fly from Low-Cost Carrier Terminal (klia2), Kuala Lumpur to:
Domestic destination
| | |
| --- | --- |
| Destination | Fare |
| Alor Setar | 15 |
| Johor Bahru | 15 |
| Kota Bharu | 15 |
| Kuantan | 15 |
| Langkawi | 15 |
| Miri | 15 |
| Penang | 15 |
| Kuala Terengganu | 15 |
| Labuan | 79 |
| Sibu | 79 |
| Bintulu | 89 |
| Kuching | 89 |
| Kota Kinabalu | 119 |
| Sandakan | 139 |
| Tawau | 139 |
| | |
| --- | --- |
| Destination | Fare |
| Alor Setar | 15 |
| Bintulu | 89 |
| Johor Bahru | 15 |
| Kota Bharu | 15 |
| Kota Kinabalu | 119 |
| Kuala Terengganu | 15 |
| Kuantan | 15 |
| Kuching | 89 |
| Labuan | 79 |
| Langkawi | 15 |
| Miri | 15 |
| Penang | 15 |
| Sandakan | 139 |
| Sibu | 79 |
| Tawau | 139 |
My Trip To Padang
International destination
| | |
| --- | --- |
| Destination | Fare |
| Brunei | 39 |
| Jakarta | 39 |
| Medan – Kualanamu | 39 |
| Padang | 39 |
| Palembang | 39 |
| Phnom Penh | 39 |
| Siem Reap | 39 |
| Ho Chi Minh City | 39 |
| Surabaya | 39 |
| Phuket | 45 |
| Krabi | 45 |
| Hat Yai | 46 |
| Singapore | 49 |
| Pekanbaru | 59 |
| Banda Aceh | 79 |
| Pattaya – U-Tapao | 79 |
| Bangkok – Don Mueang | 89 |
| Nha Trang | 99 |
| Bali | 99 |
| Hua Hin | 99 |
| Lombok | 99 |
| Pontianak | 99 |
| Semarang | 99 |
| Hanoi | 119 |
| Sihanoukville | 119 |
| Yangon | 119 |
| Bandung | 129 |
| Da Nang | 129 |
| Chiang Mai | 139 |
| Yogyakarta | 139 |
| Vientiane | 139 |
| Bhubaneswar | 169 |
| Kochi | 169 |
| Hong Kong | 169 |
| Macao | 169 |
| Tiruchirappalli | 169 |
| Visakhapatnam | 169 |
| Kolkata | 179 |
| Kaohsiung | 179 |
| Shantou | 179 |
| Makassar | 189 |
| Jeju | 199 |
| Chongqing | 199 |
| Colombo | 199 |
| Jaipur | 199 |
| Nanning | 199 |
| Wuhan | 199 |
| Dhaka | 209 |
| Guilin | 209 |
| Shenzhen | 209 |
| Kunming | 219 |
| Manila | 219 |
| Bengaluru | 229 |
| Guangzhou | 229 |
| Hyderabad | 229 |
| Taipei – Taoyuan | 229 |
| Xi'an | 229 |
| Cebu | 239 |
| Chennai | 239 |
| Male | 239 |
| Changsha | 249 |
| Chengdu | 249 |
| Hangzhou | 249 |
| Shanghai | 249 |
| Perth | 259 |
| Amritsar | 299 |
| Seoul | 299 |
| Beijing | 299 |
| Busan | 299 |
| Davao | 316 |
| Melbourne – Avalon | 339 |
| New Delhi | 339 |
| Gold Coast | 339 |
| Sydney | 339 |
| Goa | 350 |
| Osaka – Kansai | 359 |
| Tokyo – Haneda | 379 |
| Sapporo – Shin-Chitose | 429 |
| Nagoya – Chubu | 537 |
| Honolulu | 699 |
| | |
| --- | --- |
| Destination | Fare |
| Amritsar | 299 |
| Bali | 99 |
| Banda Aceh | 79 |
| Bandung | 129 |
| Bangkok – Don Mueang | 89 |
| Beijing | 299 |
| Bengaluru | 229 |
| Bhubaneswar | 169 |
| Brunei | 39 |
| Busan | 299 |
| Cebu | 239 |
| Changsha | 249 |
| Chengdu | 249 |
| Chennai | 239 |
| Chiang Mai | 139 |
| Chongqing | 199 |
| Colombo | 199 |
| Da Nang | 129 |
| Davao | 316 |
| Dhaka | 209 |
| Goa | 350 |
| Gold Coast | 339 |
| Guangzhou | 229 |
| Guilin | 209 |
| Hangzhou | 249 |
| Hanoi | 119 |
| Hat Yai | 46 |
| Ho Chi Minh City | 39 |
| Hong Kong | 169 |
| Honolulu | 699 |
| Hua Hin | 99 |
| Hyderabad | 229 |
| Jaipur | 199 |
| Jakarta | 39 |
| Jeju | 199 |
| Kaohsiung | 179 |
| Kochi | 169 |
| Kolkata | 179 |
| Krabi | 45 |
| Kunming | 219 |
| Lombok | 99 |
| Macao | 169 |
| Makassar | 189 |
| Male | 239 |
| Manila | 219 |
| Medan – Kualanamu | 39 |
| Melbourne – Avalon | 339 |
| Nagoya – Chubu | 537 |
| Nanning | 199 |
| New Delhi | 339 |
| Nha Trang | 99 |
| Osaka – Kansai | 359 |
| Padang | 39 |
| Palembang | 39 |
| Pattaya – U-Tapao | 79 |
| Pekanbaru | 59 |
| Perth | 259 |
| Phnom Penh | 39 |
| Phuket | 45 |
| Pontianak | 99 |
| Sapporo – Shin-Chitose | 429 |
| Semarang | 99 |
| Seoul | 299 |
| Shanghai | 249 |
| Shantou | 179 |
| Shenzhen | 209 |
| Siem Reap | 39 |
| Sihanoukville | 119 |
| Singapore | 49 |
| Surabaya | 39 |
| Sydney | 339 |
| Taipei – Taoyuan | 229 |
| Tiruchirappalli | 169 |
| Tokyo – Haneda | 379 |
| Vientiane | 139 |
| Visakhapatnam | 169 |
| Wuhan | 199 |
| Xi'an | 229 |
| Yangon | 119 |
| Yogyakarta | 139 |