Please do NOT mislead by the word "Safe Deposit Box".
In fact, it NEVER a safe place to put any of your valuable belonging as you might think!
This is contrary with what the advertisement of the  safe-deposit box provider tell you.
Below is the one of the example where the couple trying to sue United Overseas Bank (M) Bhd(UOB) for RM3.5mil due to missing of many valuable items from their safe deposit box in 2012.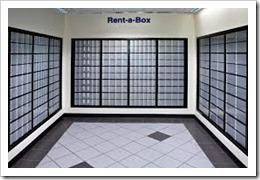 According to the Police, the safe deposit box had been broken into.
I think the couple will have a hard times winning the case as their  rental agreement with UOB, the bank was only liable to pay up to RM2,500.
Let use see what the Judge got to say.
So you still want to stored your valuables in the safe deposit box?
Maybe I can just store my important documents such as passport, Birth, Marriage and Death Certificates, Fixed Deposit Certificates, Sale and Purchase Agreement (SPA) etc
Couple suing UOB for RM3.5mil
KUALA LUMPUR: A couple is suing a bank over their "antique" jewellery and valuables worth about RM1.5mil that went missing from a safe deposit box in 2012.
Businessman Lee Yaw Lin, 46, and housewife Choo Yoke Peng, 40, said they lost a collection of pure gold and gold, jade and jadeite worth RM300,000, watches worth RM75,000, vintage notes and coins valued at RM20,000, diamonds worth RM850,000 and other items valued at RM235,514.
They named United Overseas Bank (M) Bhd as the sole defendant in the suit that will be heard before High Court judge Justice Hue Siew Kheng for three days from Monday.
Lee said that on Oct 22, 2012, an officer from the Dang Wangi police station and the bank's manager informed him that the safe deposit box had been broken into.
Upon arrival at the bank, he found all valuables missing from the box except for some documents.
In his statement of claim, Lee said they had notified the commercial bank on Sept 20 last year through their solicitor Messrs Mahendran & Co over their loss totalling RM1.48mil and inquired about an amicable settlement.
They said the bank responded that it was not prepared to do so.
Speaking to the media yesterday, Lee said he rented the safe deposit box since 1998 for RM250 a year.
"They told me later that the maximum insurance coverage for the rental of the box was RM10,000 only, as per our new agreement signed in 2002.
"They offered an amount but I was not agreeable to it and I opted to go for a full trial at the High Court," he said, adding that a mediation with the bank on July 4 failed to resolve the claim.
In the lawsuit filed on Dec 3 last year, the couple said the bank had to ensure the individuals responsible for the loss were brought to book. They are seeking RM2mil in aggravated/exemplary damages and RM1,480,514 over the loss of their valuables, among others.
In the amended statement of defence filed on Jan 24, the bank denied negligence.
It explained that providing a safe deposit box was part of its services offered for a fee and that it was neither responsible nor liable to the plaintiffs in any way for any loss or damage to the contents of the box.
It stated that according to the rental agreement with the plaintiffs, the bank was only liable to pay up to RM2,500.
from:thestar.com.my/News/Nation/2014/08/06/Couple-suing-UOB-for-RM35mil-Lawsuit-involves-safe-deposit-box-theft/