Today I received a good offer from Tan Teng Boo!
This year is the  the 25th anniversary of iCapital.biz and they come up with  anniversary offer at RM25 for one year subscription of their i Capital newsletter with FREE postage delivery.
The normal price was at RM720 and will consist of 46 issue in a year.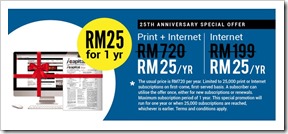 At RM25 it was offer at a Deep Discount(over 90% off). This is a Value Buy instead

Assuming the postage cost RM1 per delivery, it should price at least RM46 instead.
However this offer is only for the limited period.
Grab this if you keen on Investing using Value Investing.
Rich valuation for O&G and property stocks
The founder and managing director of Capital Dynamics Asset Management Sendirian Berhad, Tan Teng Boo said that local Oil and Gas (O&G) securities are expensive while property counters are "worrying" in view of the skyrocketing local property prices.
He told The Edge financial daily that the valuation of O&G firms is very rich and their profit margins are not sustainable.
What is i Capital?
Capital Dynamics Sdn Bhd is the first independent investment adviser in Malaysia. Its flagship product, the i Capital newsletter, has been around since 1989 and made the move to the electronic media form in 2002.
i Capital is a weekly stock market newsletter, the medium that Capital Dynamics uses to provide its investment advice.
There are a number of features that make i Capital really unique and different from the other run-of-the-mill analyst or adviser.
Each weekly issue of i Capital
• ANALYSES
the overall stockmarket and economies. Recommendations and forecasts are given along with the reasons.
• IDENTIFIES
stocks to buy or sell for longer term investors.
• RECOMMENDS
stocks to buy or sell for longer-term investors.
• SUPERVISES
longer and shorter-term portfolios.
• UPDATES
key market valuation ratios, previous recommendations and forecasts.
• TRACKS
activities of significant shareholders and directors.
• AVOIDS
hot tips, rumours, false claims and misleading hypes.
Capital Dynamics' Tan Discusses Global Stocks, Strategy: Video
Tan Teng Boo, managing director of Capital Dynamics Singapore Pte., talks with Bloomberg's Susan Li about the outlook for global stocks and his investment strategy. (This is an excerpt of the full interview. Source: Bloomberg)