When a price get adjusted during Ex-dividend, it not necessary will stay or goes down.
One of the good example of a stock that goes Ex today is British American Tobacco Malaysia(BAT).
The Cum-Dividend price on 4th March 2014 is RM60.00 and it gave dividend of RM0.78.

BAT – NOTICE OF BOOK CLOSURE
LISTING'S CIRCULAR NO. L/Q :  69878 OF  2014

Fourth interim dividend of 78.00 sen per share, tax exempt under the

single-tier tax system amounting to RM222,713,400 in respect of the financial

year ended 31 December 2013.

Further to listing's Circular No.L/Q : 69861 Of 2014, kindly be advised of the

following :

1)  The above Company's securities will be traded and quoted [ "Ex - Dividend" ]

as  from : [ 5 March 2014 (Instead of 5 March 2013  ]

2)  The last date of lodgement : [ 7 March 2014 (Instead of 7 March 2013) ]

3)  Date Payable : [ 27 March 2014 (Instead of 27 March 2013) ]
MANAGER, SEC. MARKET21/02/2014   07:00 AM
Ref Code: 201402215100260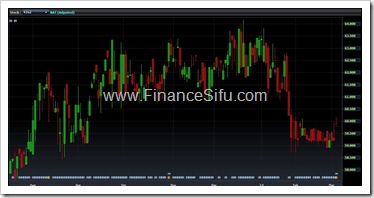 Therefore on Ex-Date which is 5th March 2014, the price will automatically adjusted to RM59.22(RM60.00 minus RM0.78).
This show there is no different when you bought the stock before or after the Ex-Dividend date.
On the Ex-date, the BAT closed up RM0.68 and finished at RM59.90. The movement was due to Supply and Demand force.
Price Closed on 5th March 2014