There are two main type of insurance:
Life insurance
General insurance
Life Insurance gave protection to breadwinner who their family depend on them the most.
This type of insurance will pay out the sum insured in the event of death due to accident or illness, of the individual who is insured. The protection period is normally very long as it gave protection for more than a year.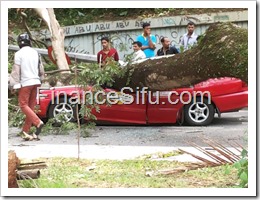 A taxi was hit by a fallen tree near Bangunan AmBank Group, Jalan Raja Chulan on December 2014
Whereas the General insurance will cover the insurer against losses and damages other than those covered by life insurance.
The General insurance includes:
Motor insurance
Fire/ House owners/ Householders insurance
Personal accident insurance
Medical and health insurance
Travel insurance
General insurance normally will cover for one year period and need to be renew every year. For Personal accident insurance, the premium paid will not increase as the age goes up.
Without any doubt, accident and illness can happen anytime and when we least expected.
However Many still don't believe in Insurance and it merely a waste of money. This thought alone has left many family in dire financial straits when a serious accident and illness happen.
With the help of Insurance, we don't have to worried about loss of income or incurring extra medical expenses should unfortunate thing happen.  
Insurance may not solve our problem 100 percent But at least it reduce the financial burden.
In the above accident, I passed by Jalan Raja Chulan, just few minutes when the accident happen. We have to get the Insurance protection before thing happen.
I'm sure the Taxi driver and the passenger will know the importance of the Insurance after the incident. Luckily no one was hurt in this incident!