There are many insurance plan that designed to protect our financial well being due to unfortunately event such as  sudden illness or injury.
One of them is Hospital  Income Plan that pay a flat amount of money based on number of the days the person hospitalize due to illness illness or accident.
This protection was needed more in view of current dengue fever outbreak. According to Health Director-General Datuk Seri Dr Noor Hisham Abdullah, there were average of 2,000 to 2,500 cases a week in January and February of 2014.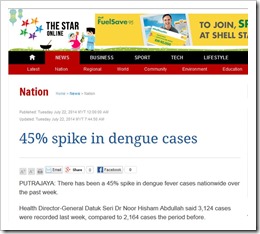 We cannot prevent the dengue fever outbreak but can reduce the financial burden in case of hospitalize.
I was at the Post Office last week and notice that POS Malaysia did sell a Hospital Cash Income Plan underwrite by RHB Insurance Berhad.
This plan will pay cash relief when you are hospitalized due to accident and covered illnesses. The premium payable is affordable and easy to apply as there is no underwriting questions and any medical examination required.
You just need to fill up the form and pay the required premium(based on your age group). The coverage will start on the  1st and after 15th of the month.
Do sign up as the cost of hospitalization is not cheap today!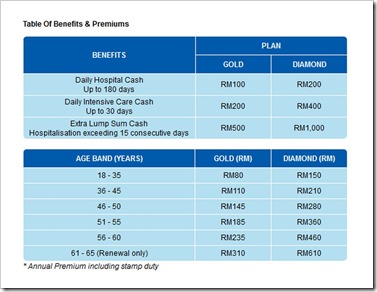 Frequently Asked Questions
Why do I need this plan?
You will have peace of mind knowing that in the event of hospitalization due to accident or illness, Pos Hospital Cash Income Plan offers cash relief to ease your financial burden.
Who is eligible to enroll?
All Malaysian citizens in good health and age between 18 and 60 years, renewable up to age 65.
How do I enroll?
Just complete the proposal form and submit it to any Pos Malaysia Berhad outlet.
When does my cover begin?
For all approved proposals submitted between the 1st and 15th of the month, cover will commence from the 16th of the current month. For all approved proposals received between the 16th and the end of the month, cover will commence from the 1st of the following month.
Will I be covered from the first day of policy commencement?
The policy will pay for any accidental claims immediately upon commencement of the policy. For illness claims, the policy will pay after 30 days from the commencement of the policy.
What if I have other insurance policies?
Hospital cash benefits are payable in addition to any other insurance plans you may have.
Does the policy pay for admission into any hospital?
The benefits are payable for admission into all Government and private hospitals.
What are the major exclusions?
The usual exclusions like pre-existing illness, specified illnesses, hospitalization caused by war, effects of alcohol, self inflicted injury, suicide or attempted suicide, mental disorder, complications of pregnancy or childbirth, use of non-prescribed drugs and HIV related illnesses. Please refer to policy document for full details.
What if I change my mind after purchasing the policy?
There is a 15 days "cooling off" period for this policy. If you change your mind, simply return the Policy of Insurance/Certificate of Insurance to us within 15 days of inception of your policy and you will be entitled to a full refund.
What are the disadvantages on switching policy from one insurer to another?
One of the main disadvantages is if your current health status is less favorable to the new insurer, new terms may be imposed to exclude such illness.
What is the claim procedure?
In the event of a claim, just call RHB Insurance Berhad at Toll Free 1-800-88-3998 and we will handle the rest.
Some spend the festive holidays in hospital
PUTRAJAYA: Farmer Zulkifli Hus­­sein has to spend Hari Raya in the hospital after being stricken with dengue.
But his family made sure he did not miss out on the festivities by bringing him ketupat and rendang when they visited him.
Zulkifli, in his 20s, is from Teluk Intan and travelled to Serdang about two weeks ago to celebrate Raya with his brother's family.
His brother, Sobri Hussein, 25, said Zulkifli was diagnosed with dengue and admitted to hospital on the night of Hari Raya eve.
"We were supposed to have a family gathering but we could not," he said.
"We managed to spend time with him in the hospital the next day.
"Hopefully, he will be discharged in the next two days and we can postpone our celebrations till then," Sobri said on Tuesday.
Zulkifli was among the patients Health Minister Datuk Seri Dr S. Subramaniam visited at the Putrajaya Hospital on Monday.
The minister also talked with the doctors who were on duty.
"I hope those who are sick and unable to spend the day with their families will get well soon," Dr Subramaniam said.
"The Health Ministry acknowledges the sacrifice of our staff and doctors who are on duty during this period," he added.
from:thestar.com.my/News/Nation/2014/07/31/Some-spend-the-festive-holidays-in-hospital/