If you have apply for a Rights issue before, you would agreed with me eRights is the much more efficient, cost and time saving.
eRights offer electronic subscription and payment services for the application of Rights Issue. It's the same like the electronic IPO applications via Electronic Share Application (ESA).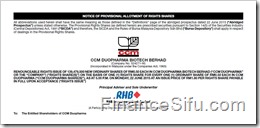 eRights allow one to  exercise your Rights Issues online and via ATMs. There's no need to fill up any Provisional Allotment Letter (PAL) as all is done via Internet or ATMs.
The payment for Rights Issues will be deducted from your bank account balance.
So far, Public Bank is the first bank that allow eRights facilities provides the Public Limited Company (PLC) allow this option of payment.
Recently, AffinBank is the second bank that offer the eRights services.
Not all(many) PLC opt for this eRights facilities. I'm not sure why because even the Bank Negara Malaysia(BNM) been encouraging online payment. Most of the investor are internet savvy nowadays.
If one apply Rights issue via convention way, he has to fill up the PAL, drop by in the nearest Post Office to buy RM10 Malaysian Revenue Stamp(Stamp Hasil) and purchased the bank draft. Finally, the PAL would be send to the Share Registrar via post or by hand.,  All these involve a lot of time and cost!
The fee charges for the eRights is RM4.24 per application subject to 6% of GST and will be deducted from your bank account immediately. 
There's No Revenue Stamp(RM10) imposed for eRights Subscription via both ATM Internet Banking channel. This alone provide a massive saving should one have several CDS account that entitle for the  Rights Issues.
You can also apply for excess shares using eRights.
CCM Duopharma Biotech Berhad is the latest PLC that offer eRights. Whereas for Sunsuria Berhad, eRights facility was not provided.