AirAsia is running Free Seats Promotion for this week.
*Booking Period: 22 June 2015 – 28 June 2015 
*Travel Period: 15 February 2016 – 31 August 2016
One of the main advantages of buying ticket during the promotion is cheap(zero) fares which you don't get during normal booking.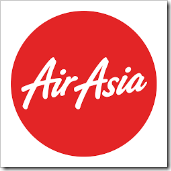 However the Free Seats is Not available during embargo period and Advanced booking is required.
You CANNOT get any refund or transfer the ticket bought to other people, should you unable to travel due to any reason.
*Embargo period refers to the high peak period i.e public holidays.
The table below provide a rough guide when is the AirAsia – Blackout Periods.
The chance for you to get a cheap(zero) fares during the Blackout Periods will be slim.
For 2015
| | | |
| --- | --- | --- |
| Dates | Events | Routes/ Destinations |
| 13 February – 1 March | Chinese New Year peak | All destinations |
| 13 – 22 March | Malaysia school holidays | All destinations |
| 25 March – 13 April | Cherry blossom peak | Japan / Korea |
| 3 – 7 April | Easter peak | Australia |
| 29 May – 14 June | Malaysia school holidays | All destinations |
| 17 – 26 July | Hari Raya Puasa | All destinations |
| 19 – 27 September | Malaysia school holidays | All destinations |
| 24 September – 9 October | China National Day golden week | China |
| 4 – 12 October | Taiwan National Day golden week | Taiwan |
| 18 – 31 December | Christmas peak | All destinations |
For 2016
| | | |
| --- | --- | --- |
| Dates | Events | Routes/ Destinations |
| 1 – 31 January | Australia school holidays ending | Inbound Australia |
| 5-15 February | Chinese New Year peak | All destinations except Australia |
| * 8 – 17 March | Malaysia school holidays | All destinations |
| * 23 – 30 March | Malaysia school holidays | All destinations |
| 22 March – 13 April | Cherry blossom peak | Japan / Korea |
| 24 March – 3 April | Easter peak | Australia |
| * 29 May – 14 June | Malaysia school holidays | All destinations |
| 2 – 10 July | Hari Raya Puasa | All destinations |
| 15 July – 31 August | Summer Peak | Japan / Korea |
| * 19 – 27 September | Malaysia school holidays | All destinations |
| 12- 16 September | Hari Raya Haji | All destinations |
| 24 September – 9 October | China National Day golden week | China |
| 28 – 31 October | Deepavali | All destinations |
| 18 – 31 December | Christmas peak | All destinations |
| 1 – 4 January | Malaysia School holidays, Australia school holidays commencement, Taiwan and Korea winter movement and Christmas peak | All destinations |
* Subject to changes