I plan to visit the most  popular destination of "Golden Triangle" comprising New Delhi, Agra and Jaipur.
One of the reason why I wish to visit India is to see one of the Seven Wonders of the World called Taj Mahal. The majestic Taj Mahal was located in Agra, India.
On top of that, Our Malaysian low-cost airline, AirAsia X has started to fly to New Delhi again from February 2016.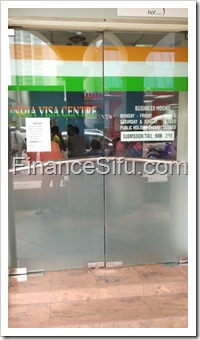 I took the advantage of the cheap early bird flight promotion to New Delhi. It cost me RM800 for a return flight from klia2 to New Delhi .
All foreign nationals entering India are required to possess a valid international travel document in the form of a national passport with a valid visa obtained from an Indian Mission.
The visa process for Malaysians travelling to India is very simple. The visa I'm applying for is Tourist Visa. Each visit on Tourist Visa shall not exceed 45days stay as indicated in the visa.
The documents required are:
1) Application form is to be completed ELECTRONICALLY ONLY in all respects. Please visit  indianvisaonline.gov.in/visa . You got to fill up all your details electronically online.
2) Form to be signed at two places; below the photograph and last page by the applicant only
3) 2 recent coloured photographs (2 inches X 2 inches) with white background ONLY
4) Original Passport valid for 6 months with minimum two blank pages
5) Address of referees in Malaysia and India to be furnished in detail
6) Confirmed flight tickets to and from India.
7) All visa applications must be supported with the passport photocopy
9) Application fee of RM189.56 including RM1.56 service fee (either single, double or multiple entry: validity from 1 month to maximum 6 months)
10) A copy of your MyKad
* Select 6 months and multiple entry since the cost(RM189.56) is the same with single entry.
* Do the form filling at home and print it out once it's done. Form filling can be also done at the Visa Office and it cost RM20.
Once you got the print out of your Application form, do visit one of the Visa Service Centre (VSC) below.
You can't apply Tourist Visa at High Commission of India, Malaysia.
21 Things To Do In Delhi, India (नई दिल्ली)
Delhi, India, (नई दिल्ली) is the national capital of the country and has a metropolitan population of around 22 million residents. The city is ancient, it's been around since the 6th century BC so there are many historical and cultural places to visit. That's specifically why I created this list of 21 things to do in Delhi, to help you plan and get excited about visiting Delhi, India.
1. The Lotus Temple (Bahá'í House of Worship) – The temple is in the shape of a giant lotus and on the inside is a peaceful sanctuary where you can enter and sit in silence for as long as you like.
2. ISKCON Hare Krishna Temple – I had never seen a temple like this before, so it as an interesting experience to hear the music and walk around the interior of the temple.
3. Kalkaji Mandir Hindu Temple – This temple is a very important Hindu temple in Delhi and while I was there, there were a number of babies being dedicated by being decorated and blessed.
4. Jama Masjid – Located in Old Delhi, Jama Masjid is the largest mosque in all of Delhi. Though they will attempt to get money from you, it's free to enter the mosque, but if you want to take photos inside they will charge you 300 rupees.
5. Akshardham Temple – This modern Hindu temple located on the outskirts of Delhi literally made my jaw drop, it's that amazing. It's free to enter, but unfortunately, they don't allow any photography inside. This is one of the things to do in Delhi that you cannot afford to miss!
6. Gurudwara Bangla Sahib (Sikh Temple) – Unlike some other sites in Delhi where you'll find many touts and hustlers, the Gurdwara Sikh Temple is about the nicest and most friendly place you can go in Delhi. People are extremely nice and you can enter the temple to listen to music.
7. Laxmi Narayan Mandir — Dedicated by Mahatma Gandhi, this is one of the most significant Hindu temples in Delhi.
8. Hauz Khas Complex – I'm always amazed at the history of Delhi and Hauz Khas is an excellent example of ancient monuments in the middle of a public park.
9. Lodi Gardens – As a free entrance public park, visiting the Lodi Gardens is one of the most amazing things to do in Delhi. It's just like an ordinary park, but it's filled with thousand year old tombs and monuments that are truly inspirational.
10. India Gate – The war memorial is one of the landmarks of Delhi and resembles the famous Arc de Triomphe in Paris.
11. Jantar Mantar – The Jantar Mantar complex is a compound that houses 13 different astronomy instruments. The structures are confusing to look at, but if you read or follow a guide (or audio guide) you'll understand how each instrument functioned.
12. Qutub Minar – Just like Akshardham Temple, Qutub Minar is one of the top things to do in Delhi, it's truly remarkable. The minaret is the main attraction, a huge pillar of red carved sandstone that towers above the ancient ruins in the complex.
13. Humayun's Tomb – One of the UNESCO World Heritage Sites in Delhi is Humayun's Tomb, built in Mughal Islamic architecture.
14. Tomb of Safdarjung – Very similar to Humayun's tomb is the tomb of Safdarjung. What I really liked is that there were no other tourists the day I went so it was quite and peaceful.
15. Red Fort – Located near Chandni Chowk in Old Delhi is the Red Fort. It's an entire walled in city where you can walk around the browse the many buildings within the walls.
16. Raj Ghat – The Raj Ghat is a memorial park dedicated to Gandhi.
17. Chandni Chowk & Chawri Bazar – The liveliest and busiest area of Delhi is Chandni Chowk and Chawri Bazar. I think it's possible to purchase anything from the entire world in this area, and you'll also find lots of delicious food.
18. Dilli Haat – This handicraft village was set up by the Delhi tourism authority and it's a decent place to purchase souvenirs or high quality crafts. You'll also find a food court that contains canteens serving food from all over India.
19. Connaught Place (Rajiv Chowk) – Known for short as just CP is a huge series of roundabouts and is the central modern business district of Delhi. Within the area you'll find all sorts of shops, famous restaurants and the Palika Bazar, an underground shopping center.
20. Paharganj (Main Bazar) – The main bazar is located just west of the New Delhi railroad station and it's an old area of town where you'll find a market and lots of budget accommodation options.
21. Delhi Street Food – Eating street food is one of the best things to do in Delhi, you'll love it.
The VSC were located at the following address:
1) Kuala Lumpur
G-01, Ground Floor, Straits Trading Building, No. 2, Lebuh Pasar Besar, 50050 Kuala Lumpur, Malaysia.
Tel. No: 006 03 2692 2692
Fax: 006 03 2698 2692
2) Penang
No. 105, Lebuh Chulia,
10200 Penang, Malaysia.
Tel. No: 006 04 250 5000
Fax: 006 04 250 5002
3) Johor
Unit M-03,Mezz Floor (Ground Floor),Menara TJB,
No.9,Jalan Syed Mohd Mufti,
80000 Johor Bahru,Johor, Malaysia.
Tel. No: 006 07 221 3305
Fax: 006 07 221 3305
4) Kuantan: No 25 Jalan Mahkota, 25000 Kuantan, Pahang. Tel.No.609 5134050
5). Kota Kinabalu: Lot G-06,Ground Floor, Wisma Sabah, Jalan Tun Fuad Stephens,88400 Kota Kinabalu, Sabah Malaysia. Tel.No.6088-2459000
6) Kuching:Lot 572- 573, Section 10, Jalan Nanas, 93400, Kuching Sarawak. Tel.No.608-2256155
7) Ipoh: No.120, Jalan Sultan Yussuf, 30000, Ipoh, Perak Tel.No.05 2554009
8)  Melaka: No.2B, Jalan Temenggong, 75000 Melaka Tel.No.0164446467
9) Seremban: Suite No. 10, Second Floor, Lucky Plaza, Jalan Dato Lee Fong Yee, 70000 Seremban, Negeri Sembilan. Tel.No.06 7674104
You can collect your Visa after 3 working days upon submission at India Visa Centre.
* Do go early as the centre was always packed. This's because start from June 2, 2014, capture of biometric data is being made mandatory for all Indian visa seekers.
Visa Application Submission:
Monday to Friday
9.00am to 2.00pm
Passport Collection
On the 3rd working day between  4.00pm to 5.30pm for for submission at India Visa Centre, Kuala Lumpur
For other centre is on 4th working day between  4.00pm to 5.30pm
Guided tour of the Taj Mahal in Agra, India
India Travel Guide
India, subcontinent of diversity and contrasts, has attracted and fascinated travellers from time immemorial. Often, India didn't let them leave. India's unsettled past, its diverse culture, art and architecture make up a great mosaic that bewitches the visitors.