I worried a lot of things before going to India.
Things like Dirty environment, plenty of Scams, Getting Sick in India with "Delhi Belly" etc, worried me a lot.
That's he reason WHY I allocated the first two day of my visit to India by not going to anywhere just to adjusted my body to the foods, air, environment etc there.

The first advice that I took from Internet was NOT to use the Tap water when brushing teeth. I tried that.
However, I use the Tap water later as the water quality was Not as bad as written in the Internet.
I took the Street Foods most of the time and Never get any "Delhi Belly" or sickness during my Visit!

My first stop was at Paharganj, New Delhi and cover the most  popular destination of "Golden Triangle" comprising New Delhi, Agra and Jaipur in 12 days.
In fact, to cover the  "Golden Triangle" need only a week.
I choose longer to relax myself and enjoy the cold temperature.
Always booked your hotel and train in advanced via Internet Booking websites.
I use Agoda and  Booking for hotels. For train booking, I use  Cleartrip and  MakeMyTrip.
I'll blog about how to book the India train in my next blog post.
These were the summary of the places that I stayed
Day 1: Hotel Avtar, New Delhi
Address: 3425 Desh Bandhu Gupta Rd,, Pahar Ganj,, New Delhi, Delhi 110055, India
Day 2:  Vivek Hotel, New Delhi.
Address:1534-1550 Main Bazaar, Pahar Ganj, New Delhi 110055 (Next to Khanna Cinema) (Near Rama Krishna Ashram Metro Station)
Day 3: Shanti Lodge Hotel, Agra
Address: Chowk Kagjiyan near South Gate Taj Mahal Tajganj , Taj Ganj, 282001 Agra, India
Day 4:  Shanti Lodge, Agra
Day 5: The Hosteller in Jaipur
Address: C-10Address: , Shiv Marg, Shyam Nagar, Jaipur, India
Day 6: The Hosteller in Jaipur
Day 7: The Hosteller in Jaipur
Day 8: The Hosteller in Jaipur
Day 9: Smyle Inn, New Delhi
Address: 916, Gali Chandi Wali, Main Bazaar, Pahar Ganj, New Delhi, Delhi 110055, India
Day 10: Hotel Star View, New Delhi
Address: 5136/1, Main Bazar, Pahar Ganj, New Delhi, Delhi 110055, India
Day 11: Hotel Star View, New Delhi
Day 12: Flown back to Kuala Lumpur
I took the first AirAsiaX inaugural flight to New Delhi.
Before boarding the plane, all the passengers were given a door gift. During the flight, we were served with Orange Juice and Cheese cake.
Our plane was greeted with water cannon salute once it reached the Indira Gandhi International Airport.
On the way out to the immigration, we were given a traditional  Indian Sweet.
That's the advantage of taking the First flight!
Arriving at Indira Gandhi International Airport, Delhi
My flight from klia2 to New Delhi took about 5 hours and 30 minutes. It landed at Terminal 3 at Indira Gandhi International Airport, New Delhi.
The India local time is 2:30 hours behind  Malaysia time.
I took the last few Delhi Airport Metro Express to my hotel at Paharganj, New Delhi.
Do ride the Delhi Airport Metro Express to avoid the expensive Airport Pickup and private Taxi.
The Delhi Airport Metro Express train look similar like our The KLIA Ekspres.
It's very comfortable and Dirt cheap. The fare from Indira Gandhi International Airport to New Delhi is only 60 rupee(RM4) .
New Delhi Airport Metro Express
It was an awesome experience, just 18mins to reach airport from New Delhi railway station @ 130kmph.
Delhi Airport Express Metro Journey
The train will terminate at New Delhi station(last stop).
It's just opposite the New Delhi railway station and walking distance to my hotel in Paharganj, New Delhi.
Should you fly to New Delhi using AirAsiaX, it will reached around 10pm local time and the last Delhi Airport Metro Express train was around 11pm. Therefore, you'll have plenty of time to catch the Delhi Airport Metro Express train.
It's good to pick a hotel near the New Delhi railway station to avoid the high transportation cost.
I choose Hotel Avtar, New Delhi because it's located at the main road, cheap(RM30 per night for a single Standard Non-Air Conditioning Room) and very near to the New Delhi railway station.
Since I arrived very late at night, it's good to avoid cheap hotel that is located in the  back lane for security purposes.
The temperature was around 13 Celsius during my visit. Therefore, you don't need any Air Conditioning Room.
Even your booked room have Air Conditioning, it won't be switch on due to the cold temperature out there.
Paharganj (Main Bazaar), Delhi
A walk through the Paharganj (Main Bazaar) area of Delhi, from New Delhi railway station on one end to the Hotel Metropolis and Delhi Metro on the other end. Be sure to set this video on 1080p for maximum sharpness. There are many inexpensive hotels and some good cheap restaurants, hippie clothing and other things for sale, but the area is busy and loud.
This video shows walking past many hotels and other businesses such as Capital, Chawla Tours and Travels, Shalimar, Masjid Pulyawali, Vijay Market, Subti International, Lords Guest House, Hotel Gold Regency, Kiran Guest House, Hotel Gold Star, Guru Vas Inn, Tanika Fashion, Vivek Hotel, Apoop Hotel, Jacksons Books, Hotel Satyam, Hotel Heritage Home, Madan Cafe & Restaurant, Imperial Cinema, Bombay Dyeing, Sonu Guest House, Kailash Guest House, Hotel Star Paradise, Palace Dx, Hotel Yatri, Satyam Cafe, Hari Poirko, The Exotic Rooftop Restaurant and Hira Sons Ready Made Garments.
How to Go to my Hotel at Paharganj, New Delhi?
1. Get down at New Delhi Station (Airport Express last Station),take Exit A1 towards Metro Yellow line station and New Delhi station.
2. Exit from the Metro Station( Yellow Line) from Exit 2 and enter the NEW DELHI TRAIN STATION compound from Platform no 16 side.
3. Exit from the Platform No 1 side called the PAHARGANJ Side.
4. Take the platform bridge and walk all the way towards Platform no 1 side.
5. Exit from the "ENTRY" Gate of the Train Station. In front of you, you will notice a busy street called the Paharganj Main Bazaar.
6. On your left is the Paharganj Main Bazaar and on the right is road heading to the Desh Bandhu Gupta Rd
7. My hotel was at Desh Bandhu Gupta Rd
(अजीब दिल्ली) Freaky New Delhi – Paharganj & Old Delhi & Main Bazaar – Incredible India!
On the day 3, I took the 12138- Punjab Mail train that  departed at 05:15am early morning from the New Delhi railway station and reached Agra about 9am.
It's a sleeper train and the air conditioning was so cold!
The train ticket for AC 2 Tier Class was Rs. 740. However after all the online charges it add up to Rs. 819.86.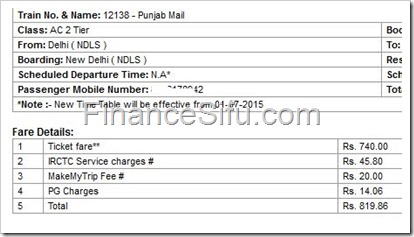 1st AC Food India's Fastest Train Bhopal Shatabdi
Interiors Of India's Best Train- Shatabdi Express
Inside View Of Interiors Of A.C Chair Car Coach of India's Best Train- Shatabdi Express Running Between New Delhi And Kalka. The Leg Space Is Enough To Sit And Relax While Enjoying The Journey. The Staff Is Friendly And They Take Special Care. For Me As I Was Traveling By Train After 13 Long Years, It Was A Travel Worth Remembering. The Only Thing I Felt Odd Was The Train's Speed. It Should Be Increased.
Ajmer Shatabdi Express full journey in Executive Chair Car
Shatabdi Express trains are a series of superfast passenger trains. They are operated by Indian Railways. They connect Metro cities with other cities which are important for tourism, pilgrimage or business.
Shatabdi Express are day-trains and return to the station of origin the same day.They are among the fastest trains in India and the Indian Railways considers them as prestigious. The Shatabdi Express trains run over short to medium distances .They have a running speed upto 150 kilometers per hour. All the Shatabdi Express trains have one coach of first class air-conditioned seating. These coaches have wider leg room and offer better food compared to the normal Air conditioned seating (CC).
12015/12016 New Delhi to Ajmer via Jaipur Shatabdi Express train runs on all days of the week and halts in Delhi Cantonment, Gurgaon, Rewari, Alwar, Jaipur on its course of journey from both destinations.
This train has two classes of journey namely First AC Tier (Executive Chair Car) and air conditioned Chair Car Tier.
The train departs New Delhi at 6:05 in the morning and reaches Ajmer at 12:45 in the afternoon at an average speed of 66 kph. Train starts it return journey at 15:45 from Ajmer and Reaches New Delhi at 22:40 at an average speed of 64 kph.
I took a Tuk Tuk to my hotel that located near the South Gate Taj Mahal , Taj Ganj.
My hotel is just 5 minutes walk to the   South Gate Taj Mahal  main entrance.
India Agra Taj Mahal
Mark Wiens Visits the Majestic Taj Mahal ताज महल (and some FOOD)
The Taj Mahal is one of the most famous attractions in all of India, and we visited Agra with the specific intent of going to the famous site.
I normally don't go to a destination specifically to see the main attraction, most of the time I'm rather content to just wander around and discover street food and explore instead of chasing the famous sites. But Agra, India, was a little different, and we visited with the main intent of going to see the famous Taj Mahal – one of the most recognized man made structures in the world.
When we arrive to Agra, we checked into Hotel Taj Plaza, which wasn't the overly nicest hotel I've stayed at, but it was the right price and it was just a 5 minute walk from the Taj Mahal. After putting our bags down we headed to the ticket counter which is actually not located at the Taj Mahal, but about 1 kilometer down the street. There you purchase your ticket and then can take a free shuttle to the entrance of the Taj Mahal.
One thing that got me a bit annoyed was that the security wouldn't allow me to bring in my microphone into the Taj Mahal, so unfortunately the sound quality of this video is not very good, sorry about that, and hope you can hear everything.
Some say that the Taj Mahal (ताज महल) is overrated and that they were not overly impressed when they saw it in real life. But I'm here to tell you that it was quite amazing and despite all the crowds of people, the building was majestic.
The Taj Mahal is a white marble mausoleum that was built during the Indian Mughal Islamic empire by Shah Jahan in memory of one of his wives. Since it was built for one of his beloved wives, that is the reason why the Taj Mahal (ताज महल) is often considered a symbol of love. Having seen so many photos in my life of the Taj Mahal, it was almost as if I had been there already when I got my first glimpse, but being there in person is much more breathtaking. Walking around the gardens offers numbers chances to see the structure from different angles and to admire the incredible craftsmanship and symmetric architecture. After walking around the gardens we then proceeded on to the main deck where you must put the shoe coverings over your shoes and can then walk on the white marble surface. You can go inside the mausoleum to see the tombs, but they didn't allow any photography inside, so no footage there.
After spending a few hours at the Taj Mahal, I headed out the East Gate and stopped at a rather expensive restaurant known as Relax He Relax. Though the prices were pretty expensive, after visiting the luxurious Taj Mahal, I was ready for something upscale. The Muglai northern Indian food was quite excellent!
Taj Mahal The Jewel of India Discovery Documentary
The Taj Mahal, A Mughal Love Story
When Mughal ruler Shah Jahan's favorite wife died in childbirth, he ordered the construction of a stunning, white marble tomb in her honor. Join Matt and Rachel as they explore the history, legends and architecture of the Taj Mahal in this episode.
Taj Mahal & Fatehpur Sikri!
India Vlog: Agra Fort, Baby Taj, Taj Mahal Sunset!
Immediately after checking in, I head to Idgah bus stand to catch a public bus to  Fatehpur Sikri(UNESCO World Heritage).
It cost me Rs. 40 each way.
Fatehpur Sikri.
Built during the second half of the 16th century by the Emperor Akbar, Fatehpur Sikri (the City of Victory) was the capital of the Mughal Empire for only some 10 years. The complex of monuments and temples, all in a uniform architectural style, includes one of the largest mosques in India, the Jama Masjid.
Fatehpur Sikri – India
Fatehpur Sikri bears exceptional testimony to the Mughal civilization at the end of the 16th century. It offers a unique example of architectural ensembles of very high quality constructed between 1571 and 1585. Its form and layout strongly influenced the evolution of Indian town planning, notably at Shahjahanabad (Old Delhi).
Fatehpur Sikri, Agra – Frank & Jen Travel India 11
Built in 1571, and abandoned only 14 years later. Fatehpur Sikri contains the deserted palace of Mughal emperor Akbar, as well as the ruins of its ghost town. Only 40 km from Agra and the Taj Mahal, Fatehpur Sikri is a UNESCO World Heritage Site, and a must see on any India visitor's travel list.
On the day 5, I took 12036/Af Jp Shatabd train to Jaipur.
I highly recommend you to take Shatabd train because it has less stop and meal were inclusive in the ticket price. The meal served was great and in high quality. So don't take any Dinner before the train ride.
I took the public bus from Jaipur Chandpole metro station(near Pink City)  to Amber Fort. It cost me only Rs. 20 each way.
I was the only Foreigner in the bus!
Welcome To Jaipur + Hawa Mahal
hawa mahal jaipur complete inside view
India – Jaipur : Hawa Mahal, Royal Gaitor, City Palace, Fort Amber
Jaipur also known as the Pink City, is the capital city of the Indian state of Rajasthan.
Hawa Mahal – "Palace of Winds" built in 1799 in the form of the crown of Krishna.
Royal Gaitor – cenotaphs of the Maharajas of Jaipur.
City Palace – the seat of the Maharaja of Jaipur (now Museum).
Amber Fort – is known for its unique artistic style, blending both Hindu and Muslim (Mughal).
India Vlog: Jaipur Hawa mahal, Elefantastic, Sunset!
We arrived in Jaipur, our first stop in Rajasthan Province, by train from Agra on the evening of February 15. We took an auto rickshaw from the train station to our hotel, the Umaid Bhawan. It was one of the most gorgeous hotels we stayed at during this trip to India! All the walls and ceilings are ornately painted, and the decor has a lovely period feel. Our room was also very spacious. We highly recommend staying here!
We had a full itinerary for the 16th that started with shopping. Our rickshaw driver dropped us off at the New Gate in Jaipur's Old City, also known as the Pink City. We walked around for about an hour, but most of the shops were closed. We were told that the markets usually open closer to 11:00 am. If you're looking for saris, then we think Jaipur is a great place to purchase. There's a lot of variety for good prices, and bargaining is always welcome. We ended our walking tour with a visit to Hawa Mahal palace.
We had to rush to get back to our hotel for the pick-up by Elefantastic! Round trip transportation was included in the 4,000 rupee per person cost for the four-hour itinerary with the elephants. Lunch, drinks, and the service tax are also included in the cost. Elefantastic was definitely our favorite activity in Jaipur, where we spent 1.5 days total!
Each pair was assigned to an elephant. We got to spend the afternoon with Birly who is a mother to be! She was 10 months pregnant and looking fabulous! We bonded with Birly by petting and feeding her. We then rode Birly in the bush surrounding the compound. After the elephant ride, we went to the home of the owner (Rahul) where his mother made us a home cooked meal. It was SO delicious! With full stomachs we reunited with Birly to amplify her beauty with paints. Don't worry…Elefantastic uses all natural, non-toxic paint. The final activity of the day was water-based. We gave Birly water to quench her thirst then washed and scrubbed her. In the summer months, you can ride the elephants to the river and play with them in the water!
We chose to get dropped off at the foot of hill where Nahargarh Fort is located in Jaipur. We had to walk fast to try to catch sunset. We ended up taking about 20-25 minutes to walk the paved path. Once we reached the top of the hill, we headed to Padao Open Air Restaurant. The views of Jaipur from both the walking path and restaurant are stunning! Admission to Padao is 50 rupees per person and comes with a free drink of tea, coffee, water or soda. You can also pay for other drinks and appetizers.
Note that there is no transportation at the fort apart from what you take. We walked up, which meant that we had to walk back down to the city to catch an auto rickshaw. The path is not lit at night. It seemed dangerous, but fortunately we made it back to our hotel safely. If you plan to stay at the fort until it's totally dark outside, we recommend taking a taxi or rickshaw and paying the driver extra to wait for you. ;)
On the day 9, I took 12016/Ajmer Shtbdi train to New Delhi.
India Vlog: New Delhi Red Fort, Raj Ghat, India Gate!
And so our 12-day adventure in India begins! We took an Air India red-eye flight direct from Shanghai to New Delhi. Our flight was a little delayed, so we only arrived in New Delhi at 3:00 am. We used the prepaid car service inside the arrivals terminal for transportation from the airport to our hotel. This was a mistake! We were charged 1,500 rupees only to find out that we could have used the prepaid taxi service just outside the terminal for 500 rupees. Something to remember for next time! :)
We stayed at the New Delhi Railway branch of the Ginger Hotel chain. It's located just 200 meters from the Ajmeri Gate side of the train station, which is convenient for early departures or late arrivals. The hotel is affordable and clean, although the flusher on our toilet didn't work very well. The restaurant has good options for all meals. We want to note that there is a significant amount of noise pollution from the train station – constant honking! If you're a light sleeper, you might want to find a hotel further away from the train station.
We only slept for 2.5 hours and were impressed that we managed to stay out and active the whole day. After spending the morning walking around the backpacker-friendly Pahar Ganj neighborhood (on the opposite side of the train station from Ginger Hotel), we pooled our resources with friends to hire a car and driver for the afternoon, which cost 1,800 rupees total for four hours. Hiring a car and driver is definitely the way to go for sightseeing in Delhi, especially if you're short on time like we were. The city is huge, traffic can get very congested, and a car and driver are relatively affordable.
Because we got a late start to our driving tour, we only managed to see three tourist sites: Red Fort, Raj Ghat, and India Gate. Raj Ghat was especially beautiful. It's the site of Mahatma Gandhi's final resting place. The park areas at Raj Ghat are lovely! If you're not pressed for time, we recommend taking a picnic and staying for a while. ;)
We went to Connaught Place for dinner. The area is filled great restaurants and as well as a famous bakery, Wenger's. We were pretty exhausted by dinner, so we opted to return to the hotel early as opposed to exploring the neighborhood at night. But it looked like a happening place!
The next morning, we woke up at 4:30 am to catch our train to Agra, home of Taj Mahal! Looking forward to sharing that vlog!
Delhi Vacation Travel Video Guide
Travel video about destination Delhi in India.
Delhi is the political and administrative capital of India and the largest democracy in the world, a melting pot of both culture and religion plus a constantly expanding metropolis that has more than ten million inhabitants. Built on the site of twelve former cities it is the gateway to India and has been the country's centre of power for almost a thousand years.Jama Masjid, the Friday Mosque, is one of old Delhi's main landmarks, bequeathed to the city by the Mogul king, Shah Jahan. Its huge inner courtyard accommodates twenty thousand. Raj Ghat is a memorial to the country's former political leaders and once contained the funeral pyres of Mahatma Ghandi, Jawaharlal Nehru and Indira Ghandi. Rajpath is the name of an impressive three hundred metre wide road flanked by green swathes and luxuriant fountains, remnants of British Imperial rule. The National Rail Museum contains an interesting collection of nostalgic locomotives, carriages and memorabilia and for those who do not wish to risk a journey on India's present day over-packed trains, the museum provides the perfect opportunity to imagine how it must have been on the Indian railroads of old. The Safdar-Jang Mausoleum was built in the final years of Mogul rule and is an architectural monument of this golden era. It contains each design element of this epoch, with a terrace-like substructure, painted stucco and a dome. No other city in this huge and diverse country demonstrates the dramatic history of India with all the intensity of colour as Delhi.
New Delhi – How To Travel in India – Connaught Place – Delhi Metro
The "centre" of New Delhi is fabulous Connaught Place a marvel of urban planning built by the British as the centre of Imperial India. Construction began in 1929. The area is instantly recognizable on any map of Delhi as a big circle in the middle with radial roads spreading out in all directions. Connaught Place's Georgian architecture is modeled after the Royal Crescent in Bath. Connaught Place has two floors, which made almost a complete circle intended to house commercial establishments on the ground with an open colonnade, and residential space on the first floor.[ The circle was eventually designed with two concentric circles, creating an Inner Circle, Middle Circle and the Outer Circle with seven roads radiating from a circular central park.
Rajiv Chow, named after Rajiv Ghandi, is the metro stop of Connaught Place. If you are looking for tourist information about New Delhi and India this is the destination for there are many agencies that provide that information. Follow us as we try and find our way through the confusing jungle of Information of how to travel in India.
I paid Rs.250 for a day City Tour in New Delhi. The tour is mainly cater for the local people. So I got the opportunity to know and mix with the local people that come from all over India. Not many of them know how to speak English.
Overall, I've a pleasant stayed in India and love it so much.
Surprising the Public Transportation here is very convenience and cheap. It can be easily DIY tour. I even travelled solo for this trip
Therefore, it's NOT necessary to take a Tour from a Travel Agent just to cover the most  popular destination of "Golden Triangle" comprising New Delhi, Agra and Jaipur!

Travel India's Golden Triangle with Tour the World TV
In this episode we join Wendy Wu Tours and Singapore Airlines on an incredible journey around northern India's Golden Triangle. This tour takes in three of India's premier tourist destinations — captivating capital Delhi, Agra — home to the fabled Taj Mahal, and the flamboyant pink city of Jaipur. We visit the historic Agra Fort, the Amber Fort in Jaipur and finish our tour with some Bollywood magic at the Kingdom of Dreams.
India's Golden Triangle: Delhi, Agra, Jaipur
India's Golden Triangle: Delhi, Agra, Jaipur. This photographic set includes: India Gate, Humayun's Tomb, Lotus Temple, Qutub Minar, Red Fort, Gandhi Museum, Sikhandra Fort, Taj Mahal, Fatehpur Sikri, Amber Palace, Water Palace and Jaipur Observatory.
India's Golden Triangle in 48 hours
Welcome to the craziness of India! A forty-hour weekend trip that overwhelmed our senses and made us fall in love with the beauty and insanity that is the Golden Triangle of India.
India – Golden Triangle